CHEMICALS
FDS
Reference standard for [¹⁸F]FDS synthesis (2-[¹⁸F]fluoro-2-deoxy-D-glucitol)
2-fluorodeoxy-sorbitol; D-glucitol, 2-deoxy-2-fluoro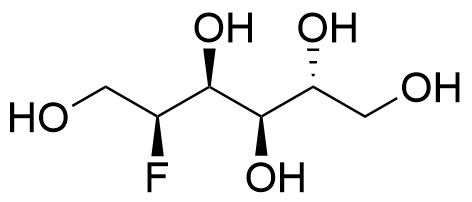 Characteristics
Molar mass 184.16
CAS RN [34339-80-5]
Purity ≥ 95 %
Colorless to slightly colored solid
soluble in water
Certificates
CoA: appearance, ¹H and ¹⁹F NMR spectra
Literature
Li, Z.-B. et al. The synthesis of ¹⁸F-FDS and its potential application in molecular imaging. Mol. Imaging Biol. 2008, 10, 92–98.
Wakabayashi, H. et al. Initial preclinical evaluation of ¹⁸F-fluorodeoxysorbitol PET as a novel functional renal imaging agent. J. Nucl. Med. 2016, 57, 1625–1628.
Werner, R. A. et al. Functional renal imaging with 2-deoxy-2-[¹⁸F]fluorosorbitol PET in rat models of renal disorders. J. Nucl. Med. 2018, 59, 828–832.
Li, J. et al. Validation of 2-[¹⁸F]fluorodeoxysorbitol as a potential radiopharmaceutical for imaging bacterial infection in the lung. J. Nucl. Med. 2018, 59, 134–139.
Add to inquiry
Product
Product No.
Filling amount
Quantity
/products/chemicals/chemical/3f89fd63-204b-4818-9a77-a246cb73cf43
Reference Standard

Product No.:

1105
Product was added