Small molecules & peptides
OMFD
Reference standard for [¹⁸F]OMFD (3-O-methyl-6-[¹⁸F]fluoro-L-DOPA)
O-Methyl-6-fluorodopa; 3-O-Methyl-6-fluoro-L-DOPA
CA index name: L-Tyrosine, 2-fluoro-5-methoxy-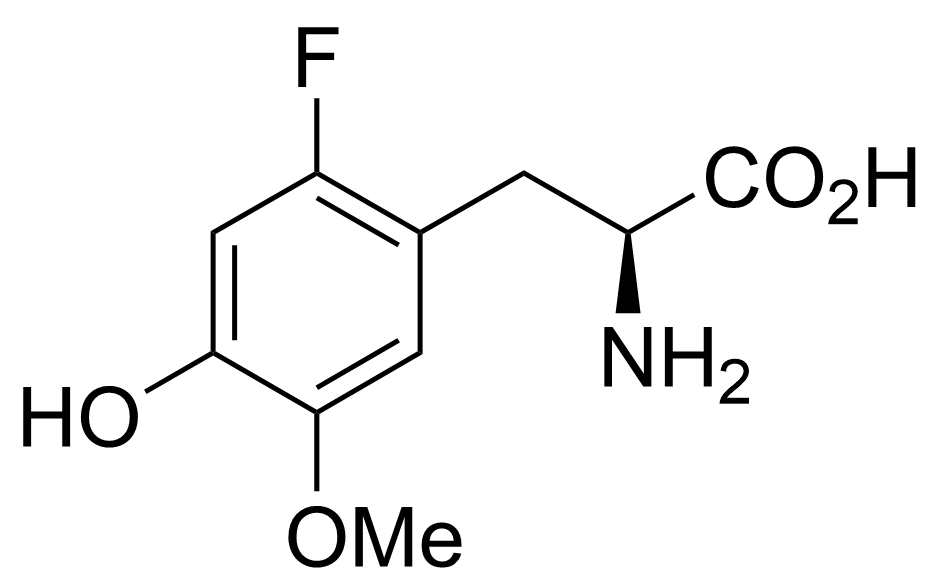 Characteristics
Molar mass 229.21
CAS RN [114077-01-9]
Purity ≥ 95 %
Colorless to yellowish solid
Certificates
CoA: appearance, ¹H and ¹⁹F NMR spectra
Product sheets (PDF)
Literature
Bergmann et al. 3-O-methyl-6-¹⁸F-fluoro-L-dopa, a new tumor imaging agent: investigation of transport mechanism in vitro. J. Nucl. Med. 2004, 45, 2116–2222.
Füchtner F. et al. Efficient synthesis of the ¹⁸F-labelled 3-O-methyl-6-[¹⁸F]fluoro-L-DOPA. Appl. Radiat. Isot. 2003, 58, 575–578.
Adam M.J. et al. Stereoselective synthesis of 3-O-methyl-6-[¹⁸F]fluorodopa via fluorodestannylation. J. Labelled Compd. Radiopharm. 1994, 34, 565–570.
Add to inquiry
Product
Product No.
Filling amount
Quantity
/products/small-molecules-and-peptides/chemical/27e30b47-ccb3-4895-baea-bb397cbf0dae
Reference Standard

Product No.:

1369

Filling amount:

10 mg

/products/small-molecules-and-peptides/chemical/27e30b47-ccb3-4895-baea-bb397cbf0dae
Reference Standard

Product No.:

1369
Related products
Product was added