Small molecules & peptides
Raclopride
Reference standard for [¹¹C]Raclopride
(2S)-3,5-Dichloro-N-[(1-ethyl-2-pyrrolidinyl)methyl]- 6-hydroxy-2-methoxybenzamide; (2S)-3,5-dichloro-N-[(1-ethyl-2-pyrrolidinyl)-methyl]-6- methoxysalicylamide
CA index name: Benzamide, 3,5-dichloro-N-[[(2S)-1-ethyl-2-pyrrolidinyl]methyl]-2-hydroxy-6-methoxy-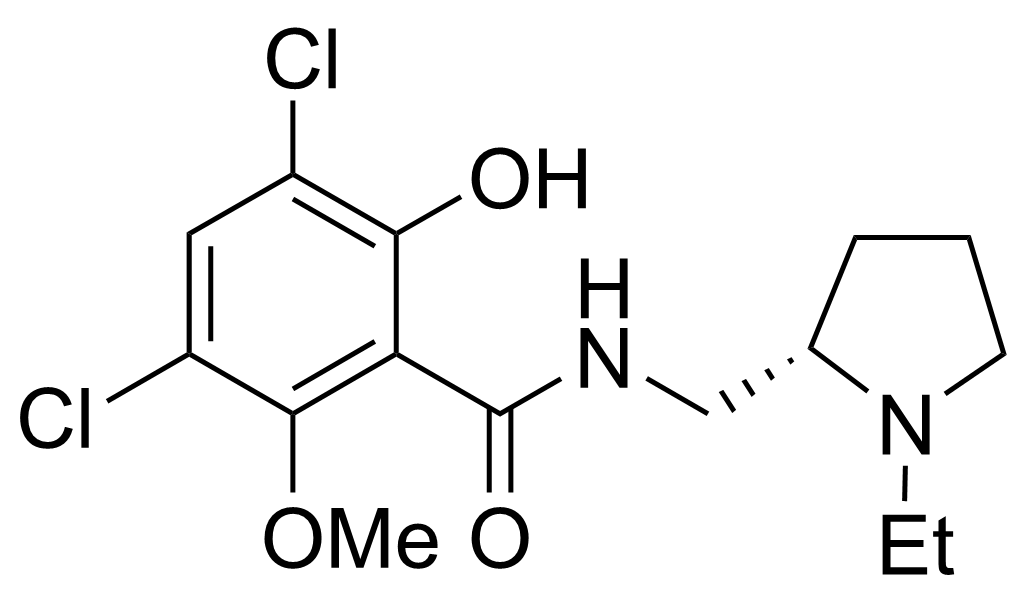 Characteristics
Molar mass 347.24
CAS RN [84225-95-6]
Purity ≥ 95 %
Certificates
CoA: appearance, ¹H NMR spectrum, HPLC
Product sheets (PDF)
Literature
Langer O. et al. Precursor Synthesis and Radiolabelling of the Dopamine D2 Receptor Ligand [¹¹C]Raclopride from [¹¹C]methyl triflate. J. Labelled Compd. Radiopharm. 1999, 42, 1183–1193.
Hoegberg T. et al. Synthesis of [Methoxy-³H]- and [Methoxy-¹¹C]- Labelled Raclopride. Specific Dopamine-D2 Receptor Ligands. J. Labelled Compd. Radiopharm. 1987, 24, 931–940.
De Paulis T. et al. Potential Neuroleptic Agents. 4. Chemistry, Behavioral Pharmacology, and Inhibition of [³H]Spiperone Binding of 3,5-Disubstituted N-[(1-Ethyl-2-pyrrolidinyl)methyl]-6-methoxy-salicylamides. J. Med. Chem. 1986, 29, 61–69.
Add to inquiry
Product
Product No.
Filling amount
Quantity
/products/small-molecules-and-peptides/chemical/3df6f78f-f39d-40d5-9d89-3830c1d41172
Chemicals

Product No.:

1520

Filling amount:

10 mg

/products/small-molecules-and-peptides/chemical/3df6f78f-f39d-40d5-9d89-3830c1d41172
Chemicals

Product No.:

1520
Product was added