Small molecules & peptides
PBR28 precursor
Precursor for [¹¹C]-PBR28 ([¹¹C]-N-(2-methoxybenzyl)-N-(4-phenoxypyridin-3-yl)acetamide)
CA index name: Acetamide, N-[(2-hydroxyphenyl)methyl]-N-(4-phenoxy-3-pyridinyl)-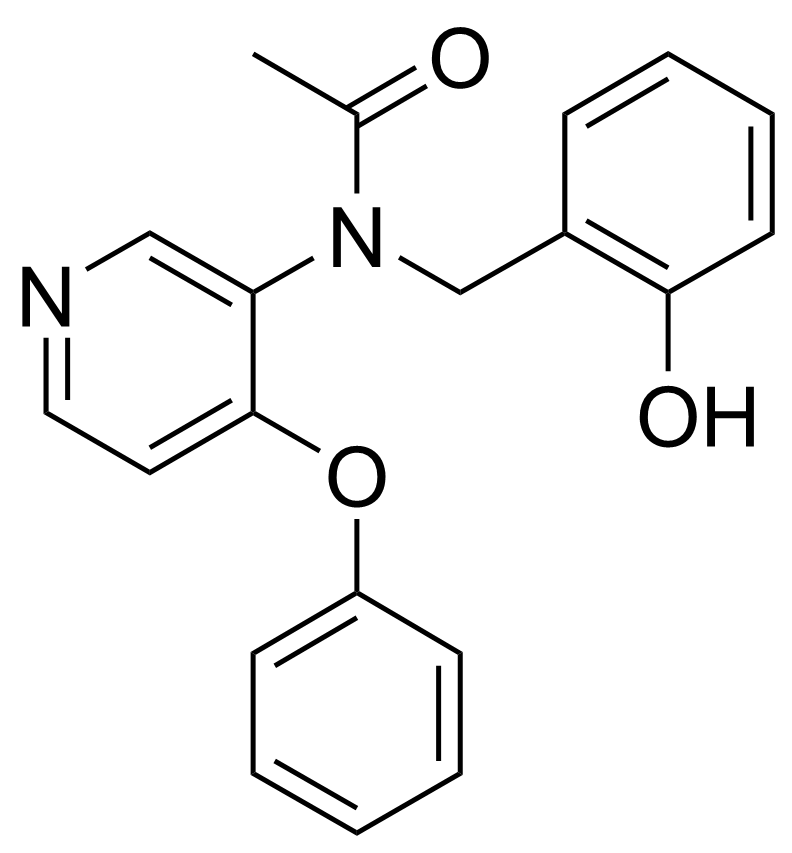 Characteristics
Molar mass 334.37
CAS RN [1005325-42-7]
Purity ≥ 95 %
Certificates
CoA: appearance, ¹H NMR spectrum
Product sheets (PDF)
Literature
Wilson A.A. et al. Radiosynthesis and initial evaluation of [¹⁸F]-FEPPA for PET imaging of peripheral benzodiazepine receptors. Nucl. Med. Biol. 2008, 35, 305–314.
Briard E. et al. Synthesis and Evaluation in Monkey of Two Sensitive ¹¹C-Labeled Aryloxyanilide Ligands for Imaging Brain Peripheral Benzodiazepine Receptors In Vivo. J. Med. Chem. 2008, 51, 17–30
Imaizumi M. et al. PET imaging with [¹¹C]PBR28 can localize and quantify upregulated peripheral benzodiazepine receptors associated with cerebral ischemia in rat. Neurosci Lett. 2007, 411, 200–205.
Add to inquiry
Product
Product No.
Filling amount
Quantity
/products/small-molecules-and-peptides/chemical/43f1fac5-b6c0-48b7-94e3-09b8f91d5e5e
Precursor

Product No.:

1652

Filling amount:

10 mg

/products/small-molecules-and-peptides/chemical/43f1fac5-b6c0-48b7-94e3-09b8f91d5e5e
Precursor

Product No.:

1652
Related products
Product was added