Small molecules & peptides
DOTA-TATE acetate (GMP)
Precursor for radiolabelled DOTA-[Tyr3]octreotate
DOTA-[Tyr3]-Octreotate, DOTA-[Tyr3, Thr8]-Octreotide
DOTA-D-Phe-Cys-Tyr-D-Trp-Lys-Thr-Cys-Thr-OH, cyclic disulfide; DOTA = N-[[4,7,10-tris(carboxymethyl)-1,4,7,10-tetraazacyclododec-1-yl]acetyl]-; Supplied as acetate salt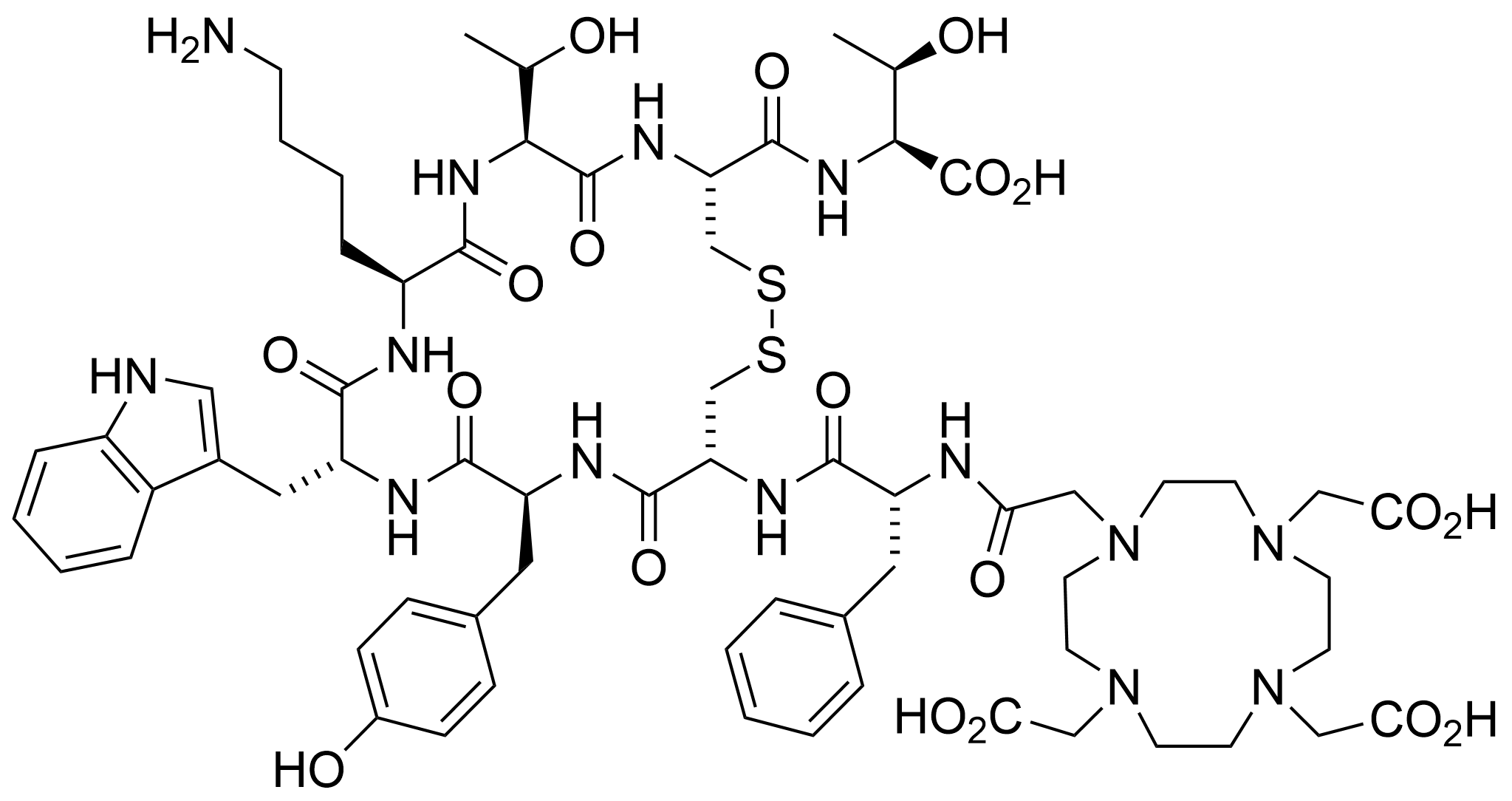 Characteristics
Molar mass 1435.63
CAS RN [177943-89-4]
Purity ≥ 97 % (9772.0001)\n≥ 95 % (9772.0000.05, 9772.0000.10, 9772.0000.25 and 9772.0000.40)
Colorless to off-white solid
Tested for bioburden and bacterial endotoxins.
Certificates
CoA: appearance, ESI-MS (identity), HPLC (purity), GC (residual solvents, acetate content, water content)
Product sheets (PDF)
Literature
De Jong M. et al. Combination Radionuclide Therapy Using ¹⁷⁷Lu- and ⁹⁰Y-Labeled Somatostatin Analogs. J. Nucl. Med., 2005, 46,13S
Valkema R. et al. Long-Term Follow-Up of Renal Function After Peptide Receptor Radiation Therapy with ⁹⁰Y-DOTA⁰,Tyr³-Octreotide and ¹⁷⁷Lu-DOTA⁰,Tyr³-Octreotate. J. Nucl. Med. 2005, 46, 8.
Add to inquiry
Product
Product No.
Filling amount
Quantity
/products/small-molecules-and-peptides/chemical/5007453e-70f6-43a6-9d75-de2bdda475ae
Precursor

Product No.:

9772

Filling amount:

50 µg

/products/small-molecules-and-peptides/chemical/5007453e-70f6-43a6-9d75-de2bdda475ae
Precursor

Product No.:

9772

Filling amount:

100 µg

/products/small-molecules-and-peptides/chemical/5007453e-70f6-43a6-9d75-de2bdda475ae
Precursor

Product No.:

9772

Filling amount:

250 µg

/products/small-molecules-and-peptides/chemical/5007453e-70f6-43a6-9d75-de2bdda475ae
Precursor

Product No.:

9772

Filling amount:

400 µg

/products/small-molecules-and-peptides/chemical/5007453e-70f6-43a6-9d75-de2bdda475ae
Precursor

Product No.:

9772

Filling amount:

1000 µg

/products/small-molecules-and-peptides/chemical/5007453e-70f6-43a6-9d75-de2bdda475ae
Precursor

Product No.:

9772
Product was added