Small molecules & peptides
MIBG Hemisulfate (GMP)
Precursor for [*I]Metaiodobenzylguanidine
(3-Iodobenzyl)guanidine hemisulfate; meta-Iodobenzylguanidine hemisulfate; Iobenguane sulfate
CA index name: Guanidine, [(3-iodophenyl)methyl]-, sulfate (2:1)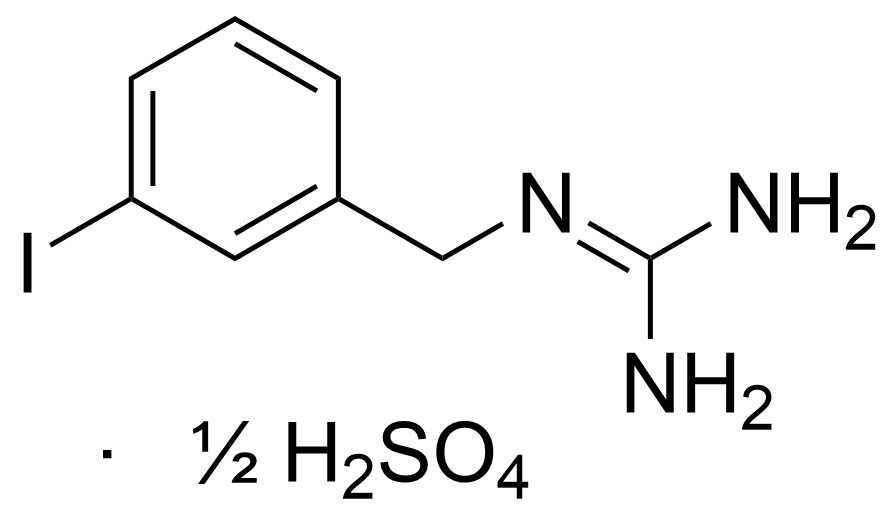 Characteristics
Molar mass 324.13
CAS RN [87862-25-7]
Purity ≥ 99 % (HPLC)
White to nearly white solid
Tested for bioburden and bacterial endotoxins.
Certificates
CoA: appearance, ¹H NMR and IR spectra, melting point (identity), HPLC (purity), GC (residual solvents), Assay (HPLC)
Product sheets (PDF)
Literature
Wieland D.M. et al. Imaging the primate adrenal medulla with [¹²³I] and [¹³¹I]metaiodobenzylguanidine: concise communication. J. Nucl. Med. 1981, 22, 358–364.
Shapiro B. et al. Iodine-131 Metaiodobenzylguanidine for the locating of suspected pheochromocytoma-experience on 400 cases. J. Nucl. Med. 1985, 26, 576–585.
Moll V.O.N. et al. Iodine-131 MIBG scintigraphy of neuroend-ocrine tumors other than pheocharomycotoma and neuroblasterna. J. Nucl. Med. 1987, 28, 979–988.
Add to inquiry
Product
Product No.
Filling amount
Quantity
/products/small-molecules-and-peptides/chemical/58273c56-0a87-45a6-8065-7874fb46cc10
Precursor

Product No.:

7001

Filling amount:

100 mg

/products/small-molecules-and-peptides/chemical/58273c56-0a87-45a6-8065-7874fb46cc10
Precursor

Product No.:

7001

Filling amount:

1000 mg

/products/small-molecules-and-peptides/chemical/58273c56-0a87-45a6-8065-7874fb46cc10
Precursor

Product No.:

7001
Related products
Product was added