Small molecules & peptides
DOTA-cyclo(RGDfK) acetate
Precursor for radiometal-labelled DOTA-RGD.
Sequence: cyclo[-Arg-Gly-Asp-D-Phe-Lys(DOTA)-]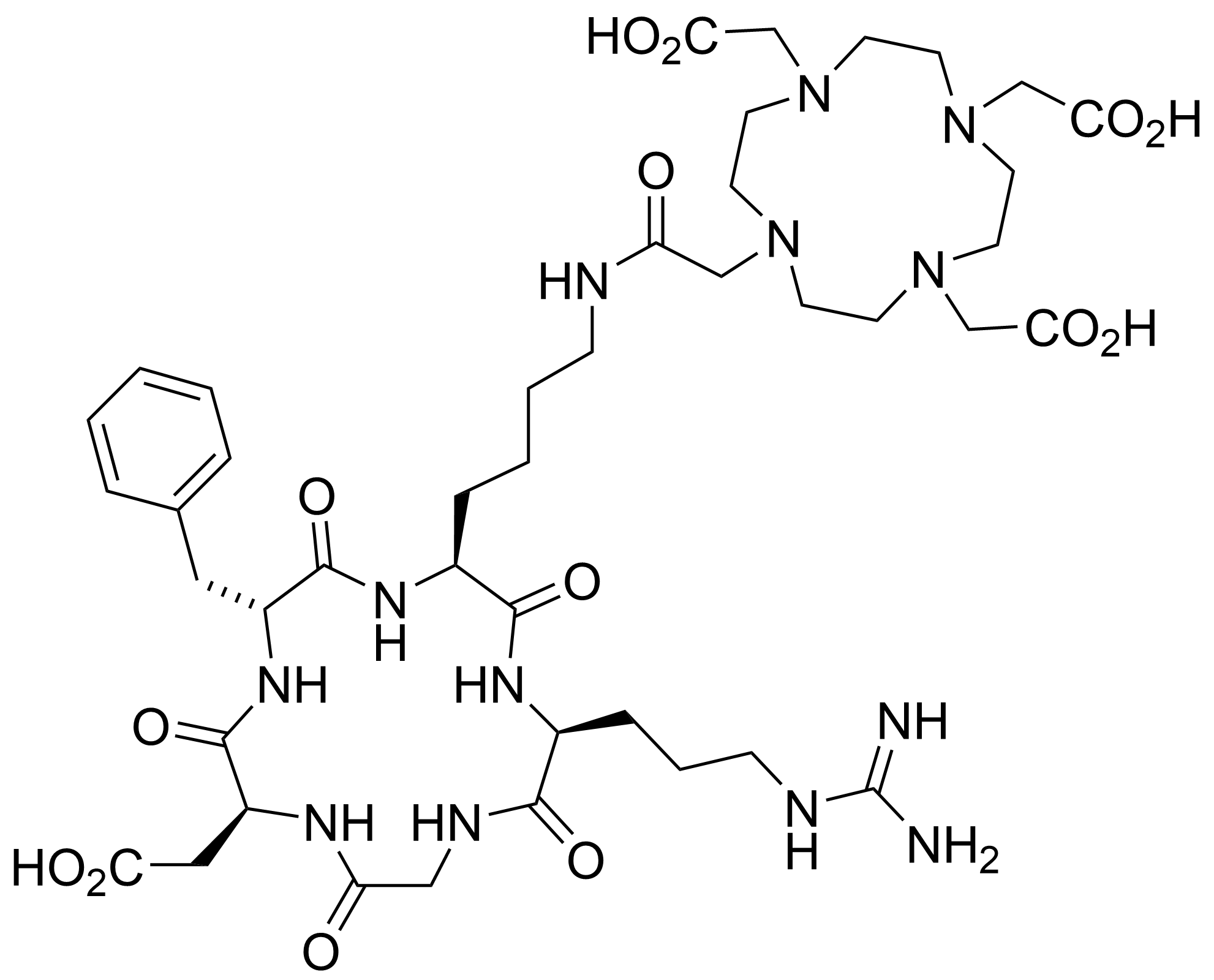 Characteristics
Molar mass 990.1 (net peptide)
CAS RN [909024-55-1] (net peptide)
Purity ≥ 95 %
Colorless to off-white freeze-dried solid
Certificates
CoA: appearance, MS (identity), HPLC (purity)
Product sheets (PDF)
Literature
Haukkala J. et al. ⁶⁸Ga-DOTA-RGD peptide: biodistribution and binding into atherosclerotic plaques in mice. Eur. J. Nucl. Med. Mol. Imaging 2009, 36, 2058–2067.
Decristoforo C. et al. ⁶⁸¹¹¹Ga- and ¹¹¹In-labelled DOTA-RGD peptides for imaging of ανβ3 integrin expression. Eur. J. Nucl. Med. Mol. Imaging 2008, 35, 1507–1515.
Yoshimoto M. et al. In Vivo SPECT Imaging with ¹¹¹In-DOTA-c(RGDfK) to Detect Early Pancreatic Cancer in a Hamster Pancreatic Carcinogenesis Model. J. Nucl. Med. 2012, 53, 765–771.
Add to inquiry
Product
Product No.
Filling amount
Quantity
/products/small-molecules-and-peptides/chemical/584d8082-de19-4e18-ad1f-c9e5fba32ba7
Precursor

Product No.:

9863

Filling amount:

1 mg

/products/small-molecules-and-peptides/chemical/584d8082-de19-4e18-ad1f-c9e5fba32ba7
Precursor

Product No.:

9863

Filling amount:

10 mg

/products/small-molecules-and-peptides/chemical/584d8082-de19-4e18-ad1f-c9e5fba32ba7
Precursor

Product No.:

9863
Product was added