Small molecules & peptides
Desmethyl-GR 205171 Dihydrochloride
Precursor for [¹¹C]GR 205171
Phenol, 2-[[(2-phenyl-3-piperidinyl)amino]methyl]-4-[5-(trifluoromethyl)-1H-tetrazol-1-yl]-, dihydrochloride, (2S-cis)-;
CA index name: Phenol, 2-[[[(2S,3S)-2-phenyl-3-piperidinyl]-amino]methyl]-4-[5-(trifluoromethyl)-1H-tetrazol-1-yl]-, dihydrochloride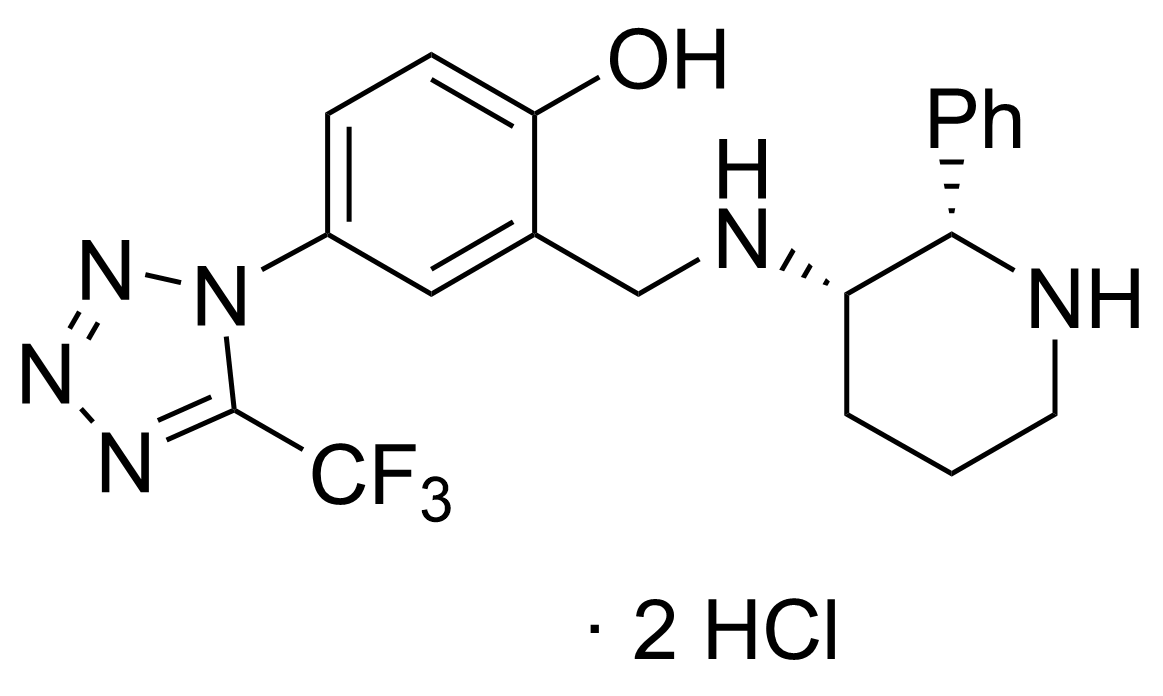 Characteristics
Molar mass 491.34
CAS RN [262598-97-0]
Purity ≥ 95 %
Certificates
CoA: appearance, ¹H, ¹³C and ¹⁹F NMR spectra
Literature
Bergström M. et al. Brain uptake and receptor binding of two [¹¹C]labelled selective high affinity NK1-antagonists, GR203040 and GR205171-PET studies in rhesus monkey. Neuropharmacology 2000, 39, 664–670.
Zamuner S. et al. Estimate the time varying brain receptor occupancy in PET imaging experiments using non-linear fixed and mixed effect modeling approach Nucl. Med. Biol. 2002, 29, 115–123.
Bergström M. et al. A new application of pre-normalized principal component analysis for improvement of image quality and clinical diagnosis in human brain PET studies--clinical brain studies using [¹¹C]-GR205171, [¹¹C]-L-deuterium-deprenyl, [¹¹C]-5-Hydroxy-L-Tryptophan, [¹¹C]-L-DOPA and Pittsburgh Compound-B. Neuroimage 2006, 33, 588–598.
Add to inquiry
Product
Product No.
Filling amount
Quantity
/products/small-molecules-and-peptides/chemical/5e0e3b99-ee00-41a9-be42-f91e5656e74c
Precursor

Product No.:

3520

Filling amount:

10 mg

/products/small-molecules-and-peptides/chemical/5e0e3b99-ee00-41a9-be42-f91e5656e74c
Precursor

Product No.:

3520
Related products
Product was added