Small molecules & peptides
Fluoroethylspiperone
Reference standard for 3-(2'-[¹⁸F]Fluorethyl)spiperone
CA index name: 3-(2-fluoroethyl)-8-[4-(4-fluorophenyl)-4-oxobutyl]-1-phenyl-1,3,8-triazaspiro[4.5]decan-4-one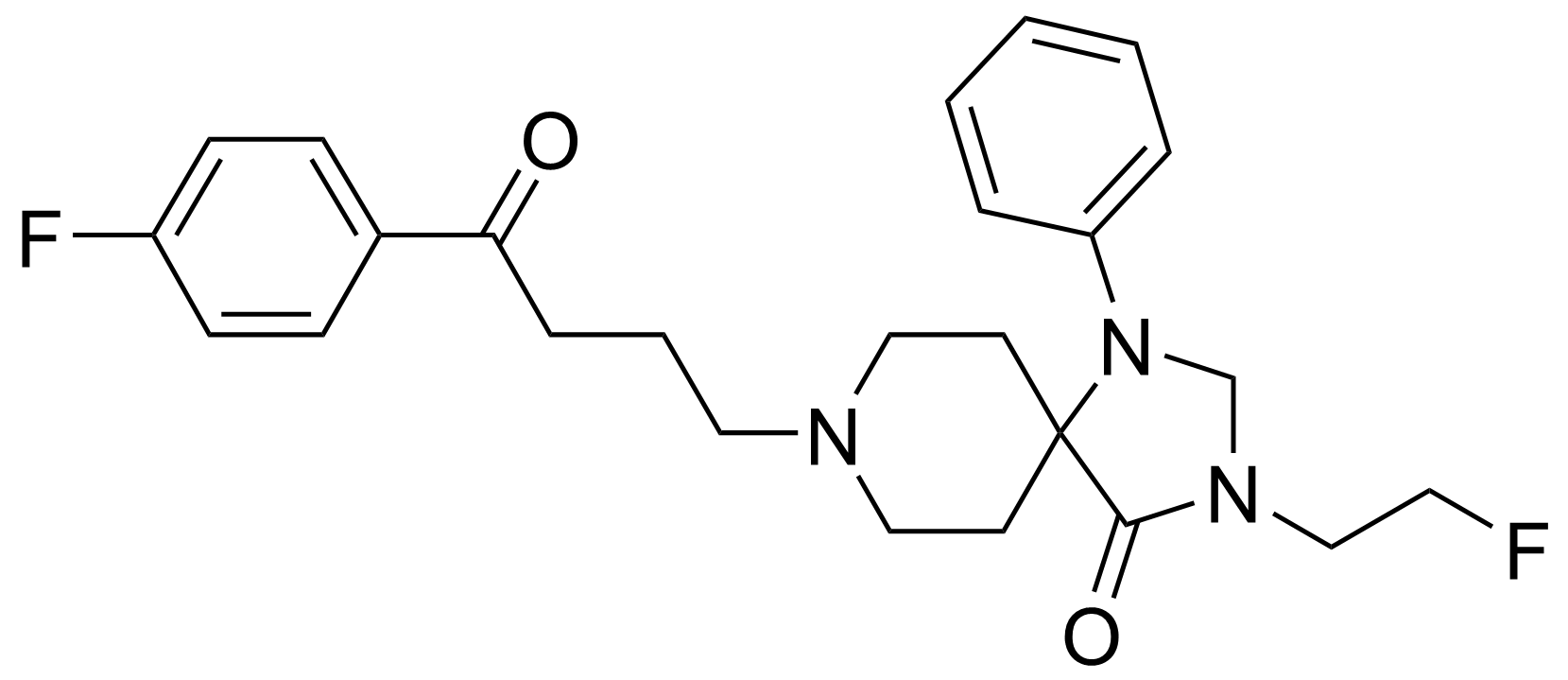 Characteristics
Molar mass 441.51
CAS RN [106114-42-5]
Purity ≥ 95 %
Certificates
CoA: appearance, ¹H and ¹⁹F NMR spectra
Product sheets (PDF)
Literature
Moerlein S.M. et al. Effect of Lipophilicity on the in Vivo Localization of Radiolabelled spiperone Analogues Int. J. Nucl. Med. Biol. 1985, 12, 353–356.
Chi D.Y. et al. Synthesis of no carrier added N-(3-[¹⁸F]fluoroalkyl)-spiperone derivatives. Appl. Radiat. Isot. 1986, 37, 1173–1180.
Coenen H.H. et al. 3-N-(2-[¹⁸F]Fluorethyl)-spiperone: A novel ligand for cerebral dopamine receptor studies with PET Life Sciences 1987, 40, 81–88.
Satyamurthy N. et al. 3-(2'[¹⁸F]Fluorethyl)spiperone, a Potent Dopamine Antagonist: Synthesis, Structural Analysis and In-vivo Utilization in Humans Int. J. Rad. Appl. Instrum. A 1990, 41, 113–129.
Hamacher K. et al. Remote controlled one-step production of ¹⁸F-labeled butyrophenone neuroleptics exemplified by the synthesis of n.c.a. [¹⁸F]N-methylspiperone. Appl. Radiat. Isot. 1995, 46, 911–916.
Add to inquiry
Product
Product No.
Filling amount
Quantity
/products/small-molecules-and-peptides/chemical/6da8aa66-8d79-4b66-b809-1fadc1d3e052
Reference Standard

Product No.:

1591

Filling amount:

10 mg

/products/small-molecules-and-peptides/chemical/6da8aa66-8d79-4b66-b809-1fadc1d3e052
Reference Standard

Product No.:

1591
Related products
Product was added