Small molecules & peptides
MPC-6827
Reference standard for [¹¹C]MPC-6827
N-(4-Methoxyphenyl)-N,2-dimethyl-4-quinazolinamine; (4-Methoxyphenyl)(methyl)(2-methylquinazolin-4-yl)amine; MPC-6827; MX-128495; Verubulin, Azixa
4-Quinazolinamine, N-(4-methoxyphenyl)-N,2-dimethyl-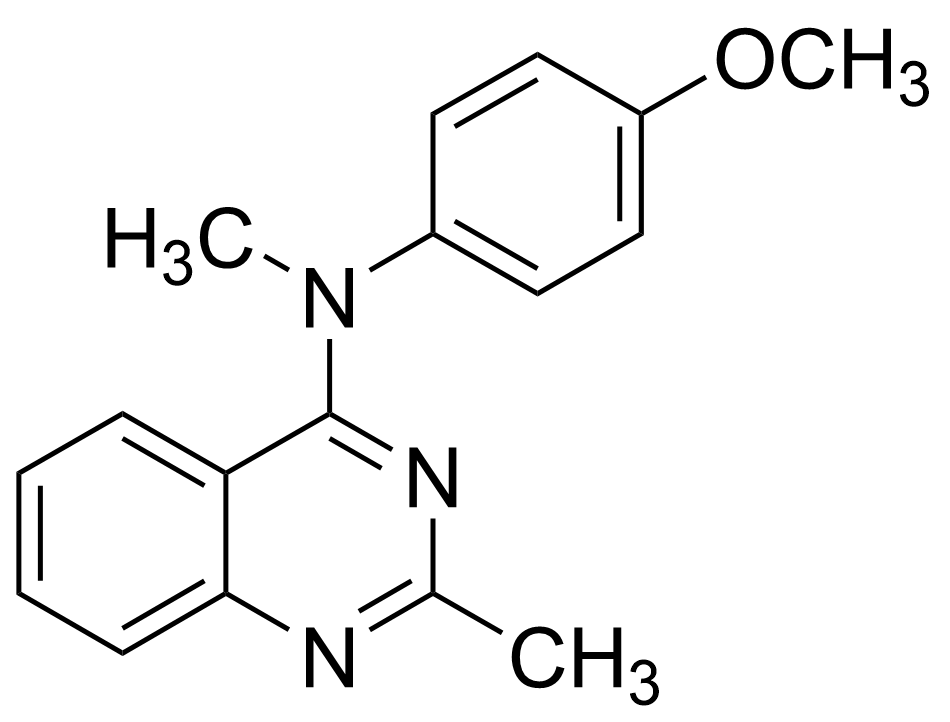 Characteristics
Molar mass 279.34
CAS RN [827031-83-4]
Purity ≥ 95 %
white to off-white solid
soluble in dimethyl sulfoxide, chloroform
Certificates
CoA: appearance, ¹H-and ¹³C-NMR spectra
Product sheets (PDF)
Literature
Kumar, J. S. D. et al. Radiosynthesis and in vivo evaluation of [¹¹C]MPC-6827, the first brain penetrant microtubule PET ligand J. Med. Chem. 2018, DOI: 10.1021/acs.jmedchem.8b00028
Kumar J. S. D, Mann J. J. Radiolabeled microtubule imaging agents and uses thereof. 2017, US patent No. 62/578,903.
Sirisoma, N. et al. Discovery of N-(4-Methoxyphenyl)-N,2-dimethylquinazolin-4-amine, a Potent Apoptosis Inducer and Efficacious Anticancer Agent with High Blood Brain Barrier Penetration J. Med. Chem. 2009 52 (8), 2341–2351.
Kasibhatla, S. et al. A Small-Molecule Inhibitor of Microtubule Formation That Is Not a Substrate for Multidrug Resistance Pumps. Cancer Research 2007, 67 (12), 5865—5871, DOI: 10.1158/0008–5472.CAN-07-0127.
Add to inquiry
Product
Product No.
Filling amount
Quantity
/products/small-molecules-and-peptides/chemical/7a35be60-cd1c-48da-89c8-1823e402485e
Reference Standard

Product No.:

2448
Related products
Product was added