Small molecules & peptides
16α-Fluoroestradiol
Reference standard for 16α-[¹⁸F]Fluoroestradiol
16α-Fluoro-13β-methyl-1,3,5(10)-gonatriene-3,17β-diol; 16α-Fluoro-17β-estradiol; FES
CA index name: Estra-1,3,5(10)-triene-3,17-diol, 16-fluoro-, (16α,17β)-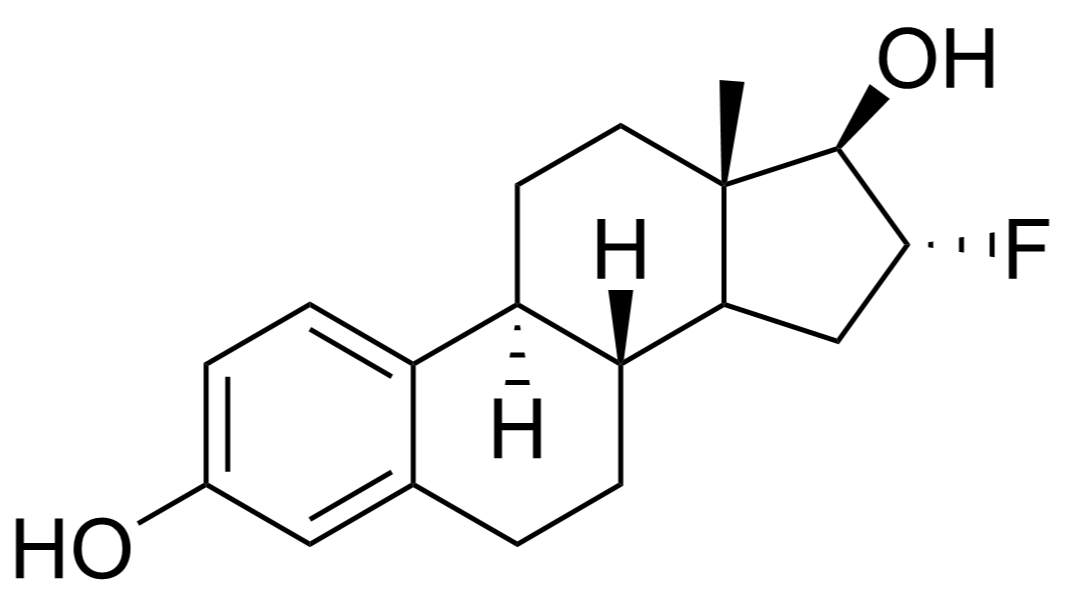 Characteristics
Molar mass 290.37
CAS RN [92817-10-2]
Purity ≥ 95 %
Certificates
CoA: appearance, ¹H and ¹⁹F NMR spectra
Product sheets (PDF)
Literature
Mankoff D.A. et al. [¹⁸F]Fluoroestradiol Radiation Dosimetry in Human PET Studies. J. Nucl. Med. 2001, 42, 679–684.
Stalford A.C. et al. The metabolism of 16-fluoroestradiols in vivo: chemical strategies for restricting the oxidative biotransformations of an estrogen-receptor imaging agent. Steroids. 1997, 62, 750–761.
Roemer J. et al. Further 13C NMR spectroscopic proof of 16α-F configuration in 16-fluoroestradiol derivatives. Forschungszent. Rossendorf, [Ber.] FZR 1997, 165, 192–193.
Add to inquiry
Product
Product No.
Filling amount
Quantity
/products/small-molecules-and-peptides/chemical/7a471610-eb20-4102-ba38-89dcc1373974
Reference Standard

Product No.:

1910

Filling amount:

1 mg

/products/small-molecules-and-peptides/chemical/7a471610-eb20-4102-ba38-89dcc1373974
Reference Standard

Product No.:

1910

Filling amount:

2 mg

/products/small-molecules-and-peptides/chemical/7a471610-eb20-4102-ba38-89dcc1373974
Reference Standard

Product No.:

1910

Filling amount:

10 mg

/products/small-molecules-and-peptides/chemical/7a471610-eb20-4102-ba38-89dcc1373974
Reference Standard

Product No.:

1910
Related products
Product was added