Small molecules & peptides
(+)-McN 5652 Thiobutyrate
Precursor for (+)-[¹¹C]McN 5652
Thiobutyric acid (S)-[4-(1,2,3,5,6,10b-hexahydro-pyrrolo[2,1-a]isoquinolin-6-yl)-phenyl] ester; compound with 2,3-dihydroxy-succinic acid; S-Bu-McN-5652 tartrate
Butanethioic acid, (S)-[4-(1,2,3,5,6,10b-hexahydropyrrolo[2,1-a]isoquinolin-6-yl)phenyl] ester, trans-(+), (2R,3R)-2,3-dihydroxybutanedioate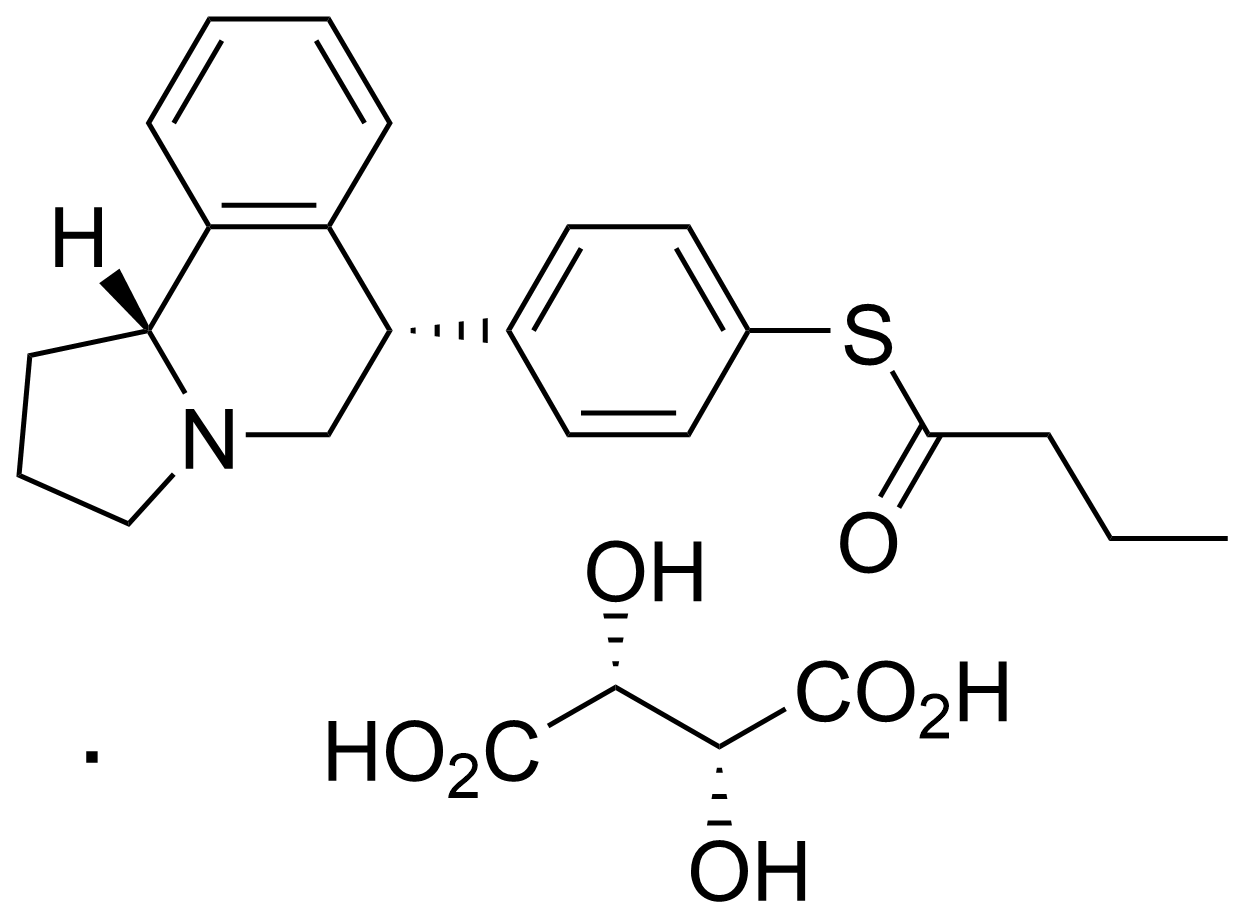 Characteristics
Molar mass 501.59
CAS RN [167548-65-4] (free base)
Purity ≥ 95 %
Certificates
CoA: appearance, ¹H NMR spectrum
Product sheets (PDF)
Literature
Parsey R.V. et al. In Vivo Quantification of Brain Serotonin Transporters in Humans Using [¹¹C]McN 5652. J. Nucl. Med. 2000, 41, 1465–1477.
Buck A. et al. Evaluation of Serotonergic Transporters Using PET and [¹¹C]McN 5652: Assessment of Methods. J. Cereb. Blood Flow Metab. 2000, 20, 253–262.
Suehiro M. et al. An improved method for the synthesis of radiolabeled McN5652 via thioester precursors. Nucl. Med. Biol. 1995, 22, 543–545.
Add to inquiry
Product
Product No.
Filling amount
Quantity
/products/small-molecules-and-peptides/chemical/83b241b7-318b-4100-a5ef-785e26602c30
Precursor

Product No.:

4360

Filling amount:

1 mg

/products/small-molecules-and-peptides/chemical/83b241b7-318b-4100-a5ef-785e26602c30
Precursor

Product No.:

4360

Filling amount:

5 mg

/products/small-molecules-and-peptides/chemical/83b241b7-318b-4100-a5ef-785e26602c30
Precursor

Product No.:

4360
Related products
Product was added