Small molecules & peptides
DiBoc-Iodo-L-DOPA
Precursor for 6-[¹²³I]Iodo-L-DOPA
N-Formyl-3,4-di-tert-butoxycarbonyloxy-6-iodo-L-phenylalanine ethyl ester
CA index name: L-Tyrosine, 5-[[(1,1-dimethylethoxy)carbonyl]oxy]-N-formyl-2-iodo-, ethyl ester, 1,1-dimethylethyl carbonate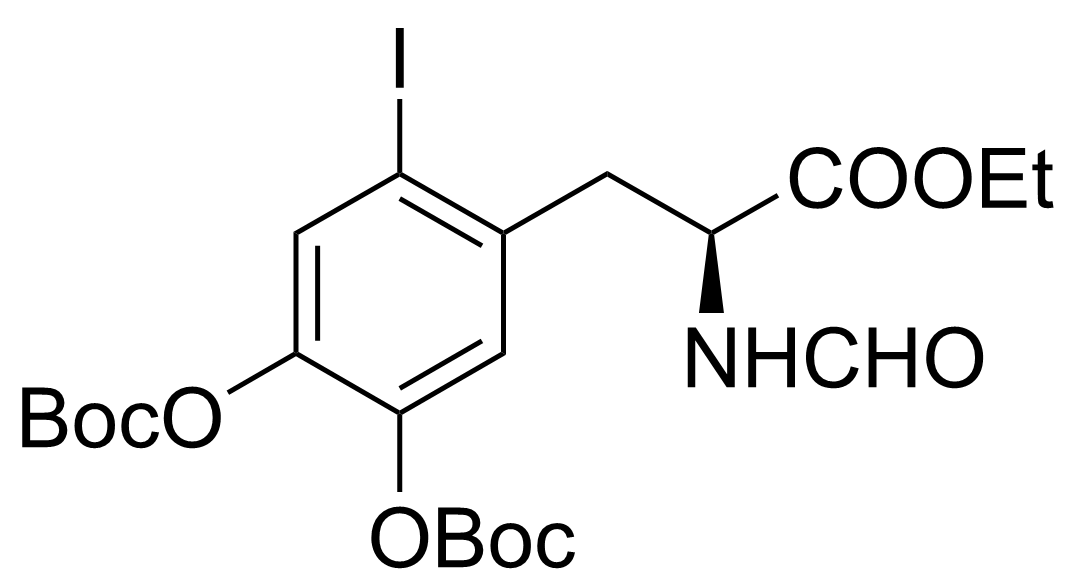 Characteristics
Molar mass 579.38
CAS RN [143993-89-9]
Purity ≥ 95 %
Certificates
CoA: appearance, ¹H NMR spectrum
Product sheets (PDF)
Literature
Kawai K. et al. Synthesis and Evaluation of Radioiodinated 6-Iodo-L-Dopa as a Cerebral L-Amino Acid Transport Marker. Nucl. Med. Biol. 1996, 23, 251–255.
Adam M.J. et al. Synthesis and preliminary Evaluation of L-6-[¹²³I]Iodo-Dopa as a Potential spect brain imaging agent.J. Labelled Compd. Radiopharm. 1990, 28, 155–166.
Namavari M. et al. Regioselective Radiofluorodestannylation with [¹⁸F]F₂ and [¹⁸F]CH₃COOF: a High Yield Synthesis of 6-[¹⁸F]Fluoro-L-DOPA. Appl. Radiat. Isot. 1992, 43, 989–996.
Add to inquiry
Product
Product No.
Filling amount
Quantity
/products/small-molecules-and-peptides/chemical/964a6419-a5e9-4fc0-9404-bb0bafae8cbc
Precursor

Product No.:

1320

Filling amount:

50 mg

/products/small-molecules-and-peptides/chemical/964a6419-a5e9-4fc0-9404-bb0bafae8cbc
Precursor

Product No.:

1320
Related products
Product was added