Small molecules & peptides
CITFE
Reference standard for [¹⁸F]β-CITFE Reference standard for [*I]β-CITFE
N-2-fluoroethyl-3-β-(4-iodophenyl)nortropane-2-β-carboxylic acid methyl ester; CITFE; β-CIT-FE
CA index name: 8-Azabicyclo[3.2.1]octane-2-carboxylic acid, 8-(2-fluoroethyl)-3-(4-iodophenyl)-, methyl ester, (1R,2S,3S,5S)-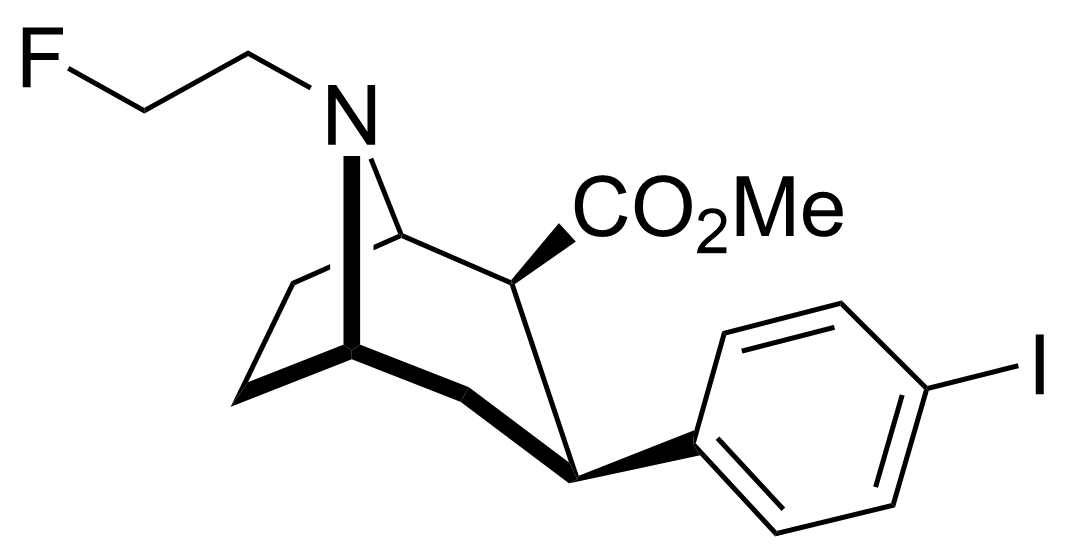 Characteristics
Molar mass 417.26
CAS RN [155798-01-9]
Purity ≥ 95 %
Colorless to yellowish crystals
Certificates
CoA: appearance, ¹H and ¹⁹F NMR spectra
Product sheets (PDF)
Literature
Antonini A. et al. The status of dopamine nerve terminals in Parkinson's disease and essential tremor: a PET study with the tracer [¹¹C]FE-CIT. Neurol. Sci. 2001, 22, 47–48.
Halldin C. et al. [¹¹C]β-CIT-FE, a radioligand for quantitation of the dopamine transporter in the living brain using positron emission tomography. Synapse 1996, 22, 386–390.
Baldwin R.M. et al. Regional brain uptake and pharmacokinetics of [¹²³I]N-ω-fluoroalkyl-2-β-carboxy-3-β-(4-iodophenyl)-nortropane esters in baboons. Nucl. Med. Biol. 1995, 22, 211–209.
Add to inquiry
Product
Product No.
Filling amount
Quantity
/products/small-molecules-and-peptides/chemical/993bfe4e-2219-42a2-8238-d058e0eec1a1
Reference Standard

Product No.:

4110

Filling amount:

1 mg

/products/small-molecules-and-peptides/chemical/993bfe4e-2219-42a2-8238-d058e0eec1a1
Reference Standard

Product No.:

4110

Filling amount:

10 mg

/products/small-molecules-and-peptides/chemical/993bfe4e-2219-42a2-8238-d058e0eec1a1
Reference Standard

Product No.:

4110
Product was added