Small molecules & peptides
Y-DOTA-TOC
Reference Standard for [⁹⁰Y]Y-DOTA-TOC
natY-Edotreotide; natY-SMT487; natY-DOTA-[Tyr3]octreotide; Yttrium, [N-[2-[4,7,10-tris[(carboxy-κO)methyl]-1,4,7,10-tetraazacyclododec-1-yl-κN¹,κN⁴,κN⁷,κN¹⁰]acetyl-κO]-D-phenylalanyl-L-cysteinyl-L-tyrosyl-D-tryptophyl-L-lysyl-L-threonyl-N-[(1R,2R)-2-hydroxy-1-(hydroxymethyl)propyl]-L-cysteinamide cyclic (2→7)-disulfidato(3-)]-
Sequence: DOTA(Y)-D-Phe-Cys-Tyr-D-Trp-Lys-Thr-Cys-Thr(ol), cyclic disulfide.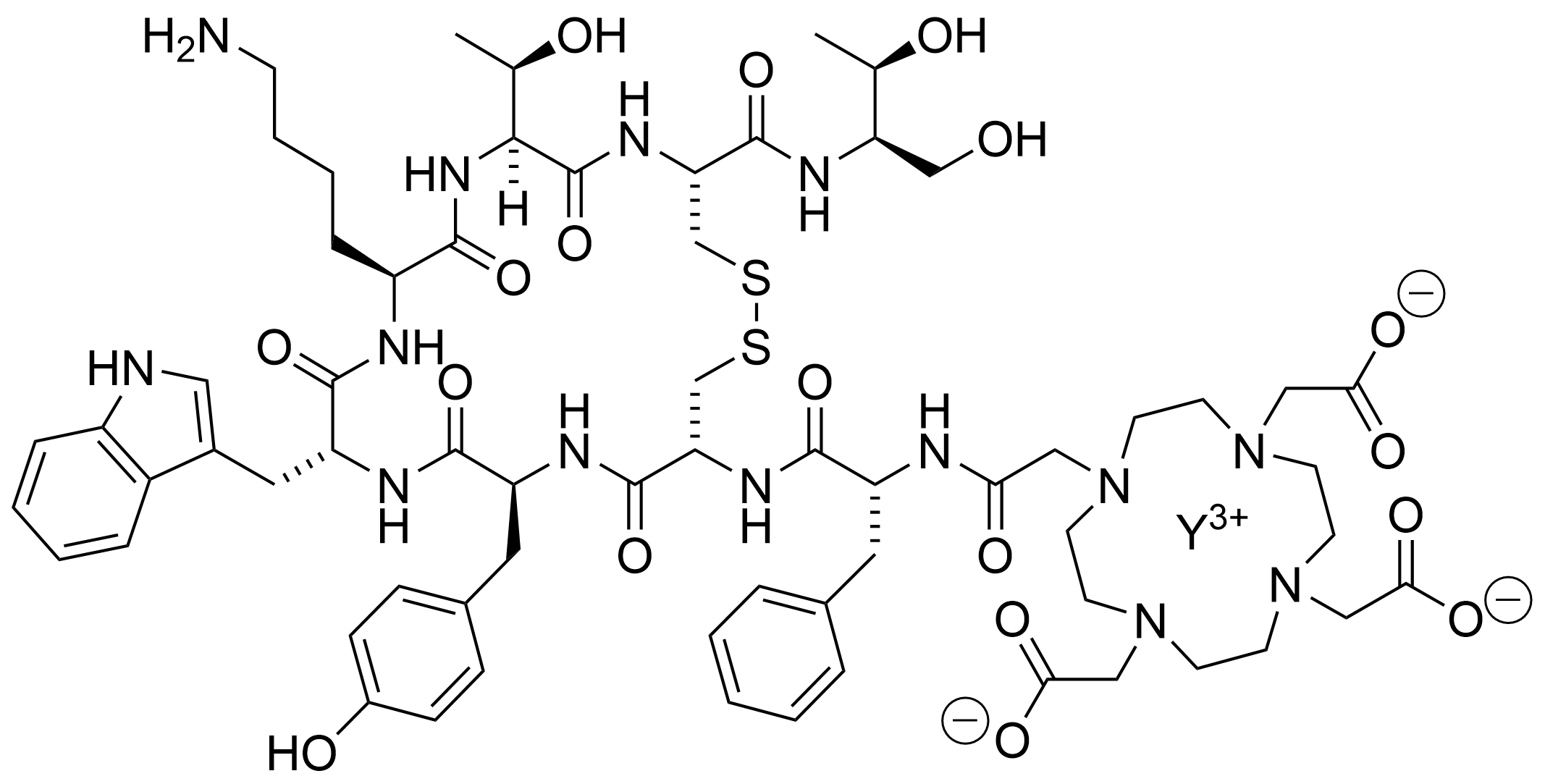 Characteristics
Molar mass 1507.52 (net peptide)
CAS RN [293295-66-6]
Purity ≥ 95 %
Colorless to off-white solid
Certificates
CoA: appearance, MS (identity), HPLC (purity)
Product sheets (PDF)
Literature
Villard L. et al. Cohort study of somatostatin-based radiopeptide therapy with [⁹⁰Y-DOTA]-TOC versus [⁹⁰Y-DOTA]-TOC plus [¹⁷⁷Lu-DOTA]-TOC in neuroendocrine cancers. J. Clin. Oncol. 2012, 30, 1100–1106.
Add to inquiry
Product
Product No.
Filling amount
Quantity
/products/small-molecules-and-peptides/chemical/a1fe58b6-5601-4e07-a19a-6aa9f97d4dd7
Reference Standard

Product No.:

9704
Related products
Product was added