Small molecules & peptides
TBS-CT
Precursor for [¹⁸F]CFT and precursor for [*I]β-CIT
(–)-2-β-Carbomethoxy-3β-[4-(tributylstannyl)]phenyltropane; 8-Azabicyclo[3.2.1]octane-2-carboxylic acid, 8-methyl-3-[4-(tributylstannyl)phenyl]-, methyl ester, [1R-(exo,exo)]-Tributylstannyl-β-CT
CA index name: 8-Azabicyclo[3.2.1]octane-2-carboxylic acid, 8-methyl-3-[4-(tributylstannyl)phenyl]-, methyl ester, (1R,2S,3S,5S)-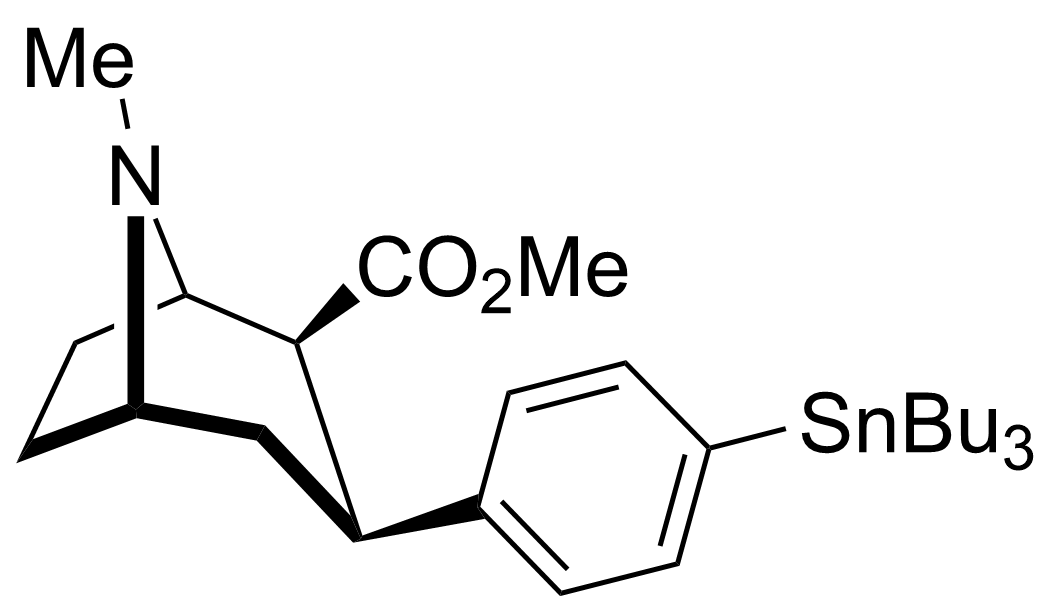 Characteristics
Molar mass 548.39
CAS RN [136794-88-2]
Purity ≥ 95 %
Certificates
CoA: appearance, ¹H and ¹¹⁹Sn NMR spectra
Product sheets (PDF)
Literature
Loch Ch. et al. Synthesis of 2β-carbomethoxy-3β-(4-[⁷⁶Br]bromophenyl)tropane ([⁷⁶Br]β-CBT), a PET tracer for in vivo imaging of the dopamine uptake sites. J. Labelled Comp. Radiopharm. 1995, 36, 385–92.
Baldwin R.M. et al. Evaluation of the monoamine uptake site ligand [¹²³I]methyl 3β(4-iodophenyl)tropane-2β-carboxylate ([¹²³I]β-CIT) in nonhuman primates: Pharmacokinetics, biodistribution and SPECT brain imaging co-registered with MRI. Nucl. Med. Biol. 1993, 20, 597–606.
Neumeyer J.L. et al. [¹²³I]-2β-carbomethoxy-3β-(4-iodophenyl)-tropane: high-affinity SPECT (single photon emission computed tomography) radiotracer of monoamine reuptake sites in brain. J. Med. Chem. 1991, 34, 3144–6.
Add to inquiry
Product
Product No.
Filling amount
Quantity
/products/small-molecules-and-peptides/chemical/a4227d48-f470-4285-b149-ee7892e6a6d9
Precursor

Product No.:

4041

Filling amount:

1 mg

/products/small-molecules-and-peptides/chemical/a4227d48-f470-4285-b149-ee7892e6a6d9
Precursor

Product No.:

4041

Filling amount:

25 mg

/products/small-molecules-and-peptides/chemical/a4227d48-f470-4285-b149-ee7892e6a6d9
Precursor

Product No.:

4041
Product was added