Small molecules & peptides
(R)-FPSPPA
Precursor for (R)-[¹¹C]-Methyl-FPSPPA (2-[(2-fluorophenyl)methyl]-3-(2-fluorospiro[4,5-dihydrothieno [2,3-c]pyran-7,40-piperidine]-10-yl)propanamide)
(2R)-2-[(2-Fluorophenyl)methyl]-3-(2-fluorospiro[4,5-dihydrothieno [2,3-c]pyran-7,40-piperidine]-10-yl)propanamide
Spiro[piperidine-4,7'-[7H]thieno[2,3-c]pyran]-1-propanamide, 2'-fluoro-α-[(2-fluorophenyl)methyl]-4',5'-dihydro-, (αR)-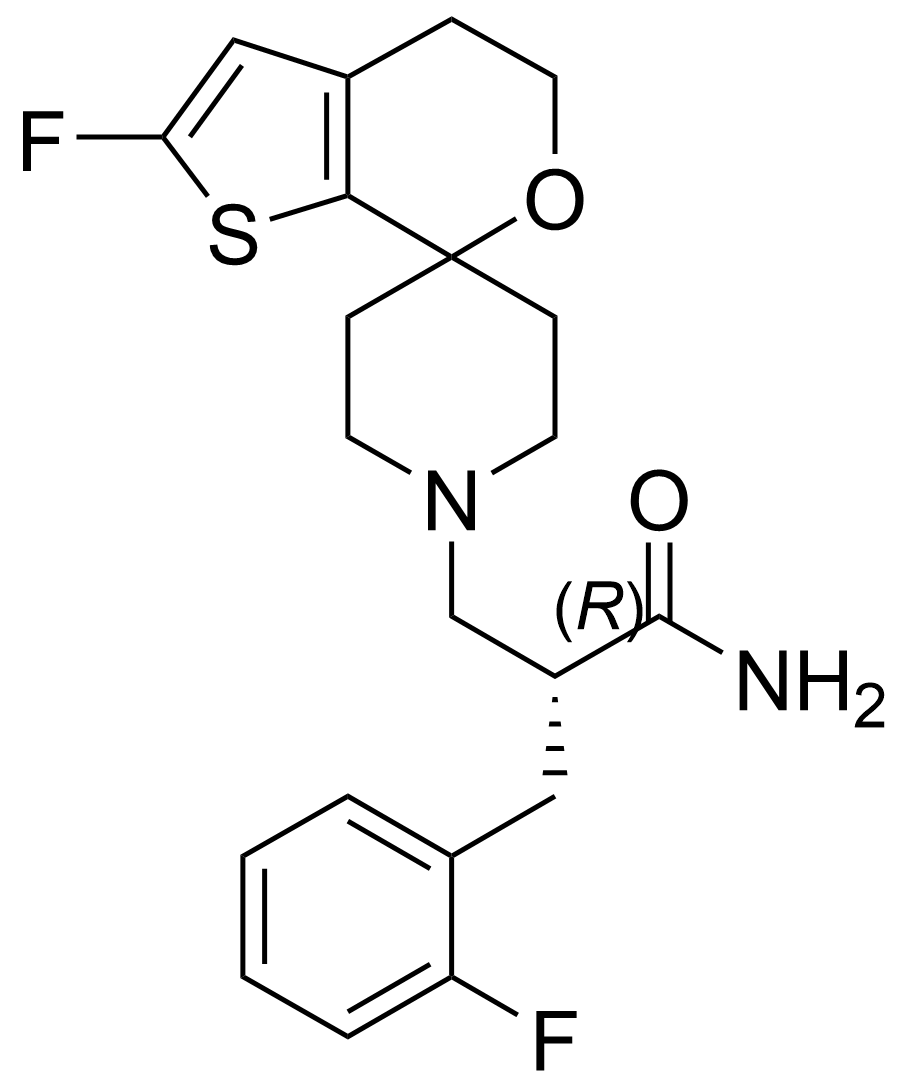 Characteristics
Molar mass 406.49
CAS RN [1283095-67-9]
Purity ≥ 95 %
Certificates
CoA: appearance, ¹H NMR spectrum
Literature
Pike V.W. et al. Synthesis and Evaluation of Radioligands for Imaging Brain Nociceptin/Orphanin FQ Peptide (NOP) Receptors with Positron Emission Tomography, J. Med. Chem. 2011, 54, 2687–2700.
Pedregal C. et al. Development of LC-MS/MS-Based Receptor Occupancy Tracers and Positron Emission Tomography Radioligands for the Nociceptin/Orphanin FQ (NOP) Receptor, J. Med. Chem. 2012, 55, 4955–4967.
Kimura Y. et al. Brain and Whole-Body Imaging in Rhesus Monkeys of ¹¹C-NOP-1A, a Promising PET Radioligand for Nociceptin/Orphanin FQ Peptide Receptors, J. Nucl. Med. 2011, 52, 1638–1645.
Add to inquiry
Product
Product No.
Filling amount
Quantity
/products/small-molecules-and-peptides/chemical/a9068c35-c9c3-49db-8761-a2a569cfcaee
Precursor

Product No.:

2460
Related products
Product was added