Small molecules & peptides
DOTA-RGDfK dimer acetate
Precursor for radiometal-labelled RGD-peptide.
CA index name: Cyclo(L-arginylglycyl-L-α-aspartyl-D-phenylalanyl-L-lysyl), 5,5'-[N-[[4,7,10-tris(carboxymethyl)-1,4,7,10-tetraazacyclododec-1-yl]acetyl]-L-glutamoyl]bis-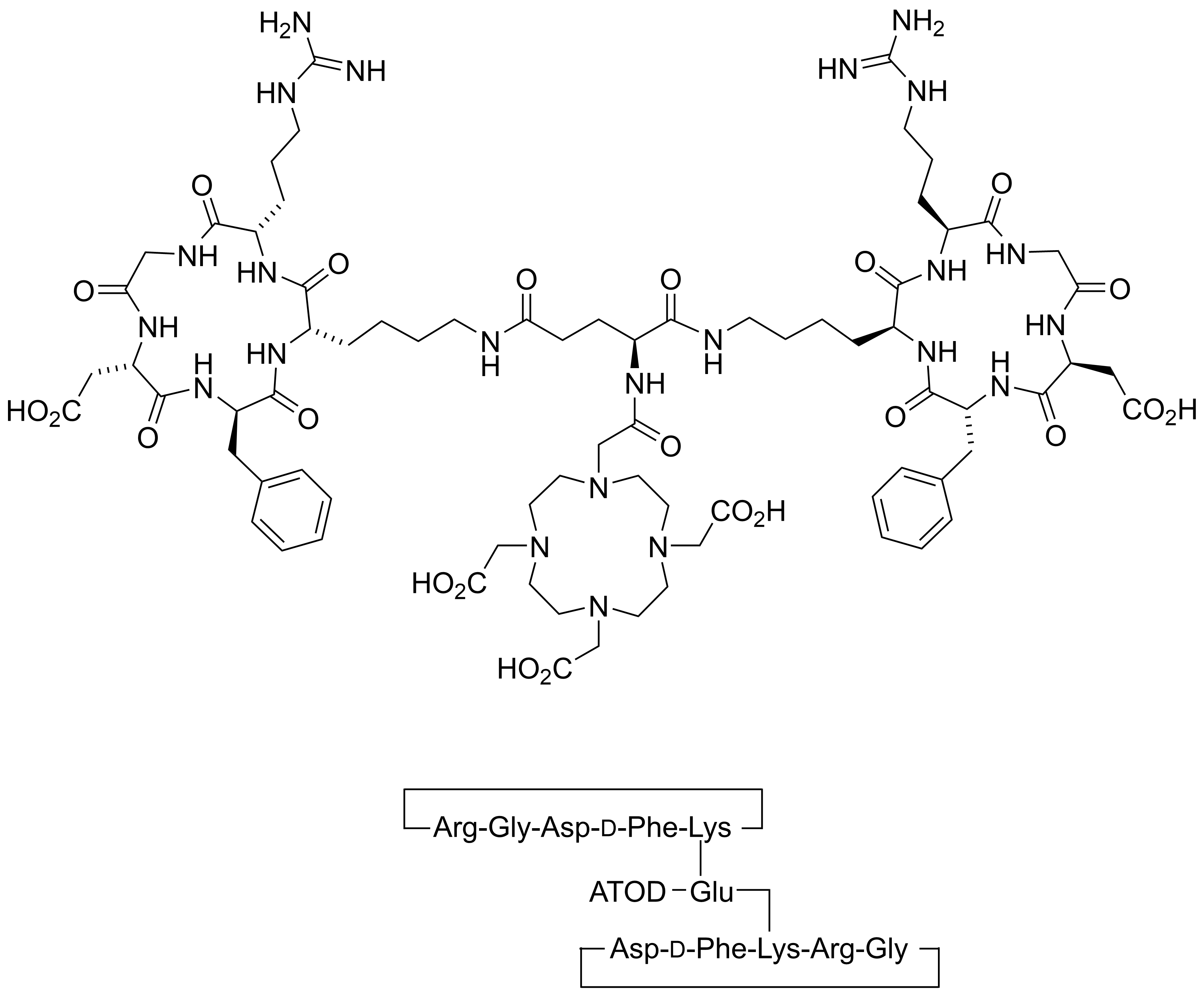 Characteristics
Molar mass 1704.84
CAS RN [250612-06-7] (net peptide)
Purity ≥ 95 %
Colorless freeze-dried solid
Certificates
CoA: appearance, MS (identity), HPLC (purity)
Product sheets (PDF)
Literature
Mousa S.A. αν Integrin Affinity/Specificity and Antiangiogenesis Effect of a Novel Tetraaza Cyclic Peptide Derivative, SU015, in Various Species. J. Cardiovasc. Pharmacol. 2005, 45, 462–467.
Janssen M.L. et al. Tumor Targeting with Radiolabeled ανβ3 Integrin Binding Peptides in a Nude Mouse Model. Cancer Res. 2002, 62, 6146–6151.
Add to inquiry
Product
Product No.
Filling amount
Quantity
/products/small-molecules-and-peptides/chemical/c24e0e30-e04c-40d9-b1ca-cb8469ecbd85
Chemicals

Product No.:

9862

Filling amount:

1 mg

/products/small-molecules-and-peptides/chemical/c24e0e30-e04c-40d9-b1ca-cb8469ecbd85
Chemicals

Product No.:

9862

Filling amount:

10 mg

/products/small-molecules-and-peptides/chemical/c24e0e30-e04c-40d9-b1ca-cb8469ecbd85
Chemicals

Product No.:

9862
Product was added