Small molecules & peptides
FETNIM
Reference standard for [¹⁸F]FETNIM
Fluoroerythronitroimidazole
2,3-Butanediol, 1-fluoro-4-(2-nitro-1H-imidazol-1-yl)-, [R-(R,S)]-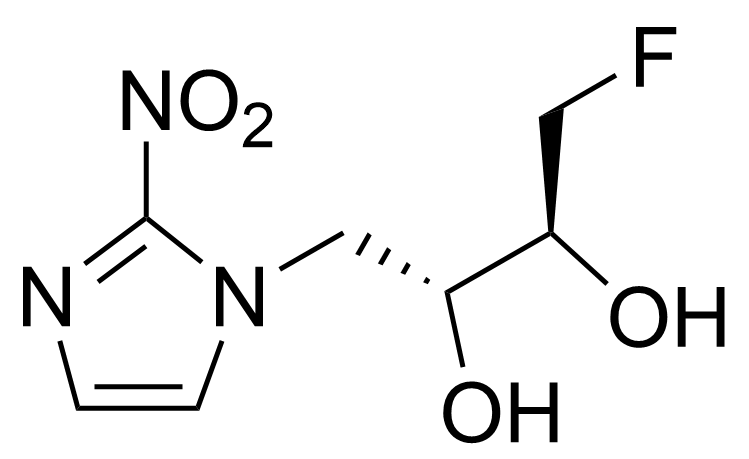 Characteristics
Molar mass 219.17
CAS RN [204977-05-9]([¹⁸F]FETNIM)
Purity ≥ 95 %
Certificates
CoA: appearance, ¹H and ¹⁹F NMR spectra
Product sheets (PDF)
Literature
Yang D.J. et al. Development of F-18-labeled Fluoroerythro-nitroimidazole as a PET agent for imaging Tumor Hypoxia. Radiology 1995, 194, 795–800.
Grönroos T. et al. Pharmacokinetics of [¹⁸F]FETNIM, A Potential Hypoxia Marker for PET. J. Nucl. Med. 2001, 42, 1397–1404.
Lethiö K. et al. Imaging perfusion and hypoxia with PET to predict radiotherapy response in head-and-neck cancer. Int. J. Radiat. Oncol. Biol. Phys. 2004, 59, 971–982.
Add to inquiry
Product
Product No.
Filling amount
Quantity
/products/small-molecules-and-peptides/chemical/d2b9233c-4694-4ff4-8f6b-e44c4980ae7b
Reference Standard

Product No.:

1440

Filling amount:

10 mg

/products/small-molecules-and-peptides/chemical/d2b9233c-4694-4ff4-8f6b-e44c4980ae7b
Reference Standard

Product No.:

1440
Related products
Product was added