Small molecules & peptides
2-Fluoro-m-Tyrosine
Reference standard for [¹⁸F]FMT ([¹⁸F]fluoro-m-L-tyrosine)
2-Amino-3-(2-fluoro-5-hydroxy-phenyl)-propionic acid; 2-Fluoro-m-L-Tyrosine; 2-Fluoro-m-Tyrosine; 6-Fluoro-3-tyrosine; F-m-L-Tyrosine; FMT
CA index name: L-Phenylalanine, 2-fluoro-5-hydroxy-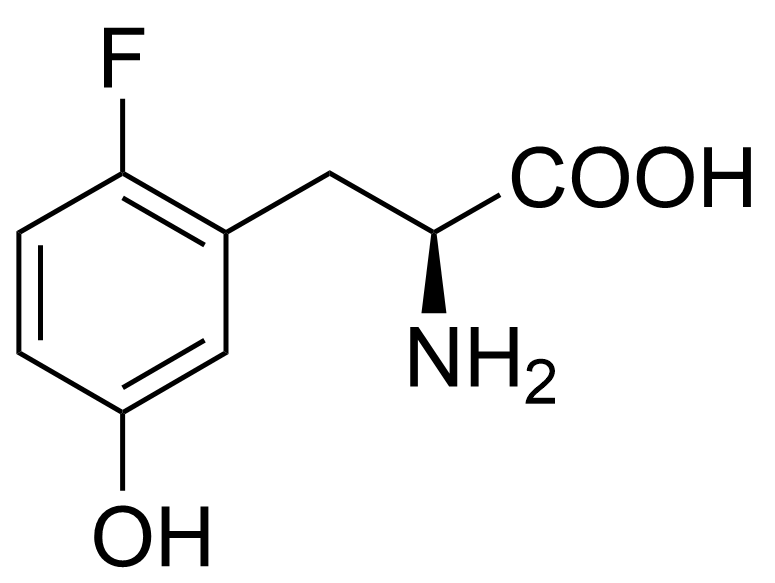 Characteristics
Molar mass 199.18
CAS RN [148613-12-1]
Purity ≥ 95 %
Certificates
CoA: appearance, ¹H and ¹⁹F NMR spectra
Product sheets (PDF)
Literature
Namavari M. et al. Synthesis of 6-[¹⁸F] and 4-[¹⁸F]Fluoro-L-m-tyrosines via Regioselective Radiofluorodestannylation. Appl. Radiat. Isot. 1993, 44, 527–536.
DeJesus O.T. et al. Effect of 6-fluoro-m-tyrosine on dopamine release and metabolism in rat striatum using in vivo microdialysis. Brain Research 2000, 884, 192–195.
DeJesus O.T. et al. Affinities of dopamine analogs for monoamine granular and plasma membrane transporters: implications for PET dopamine studies. Life Sciences 1997, 60, 2399–2406.
Add to inquiry
Product
Product No.
Filling amount
Quantity
/products/small-molecules-and-peptides/chemical/d9d6d086-b5f5-4d85-89d4-6d9629e0d13d
Reference Standard

Product No.:

3130

Filling amount:

10 mg

/products/small-molecules-and-peptides/chemical/d9d6d086-b5f5-4d85-89d4-6d9629e0d13d
Reference Standard

Product No.:

3130
Product was added