Small molecules & peptides
N,O-Di-Boc-2-TMSn-L-tyrosine ethyl ester
Precursor for 2-[¹⁸F]Fluoro-L-tyrosine
N,O-Di-Boc-2-trimethylstannyl-L-p-tyrosine ethyl ester; 2-TT
CA index name: L-Tyrosine, N-[(1,1-dimethylethoxy)carbonyl]-2-(trimethylstannyl)-, ethyl ester, 1,1-dimethylethyl carbonate (ester)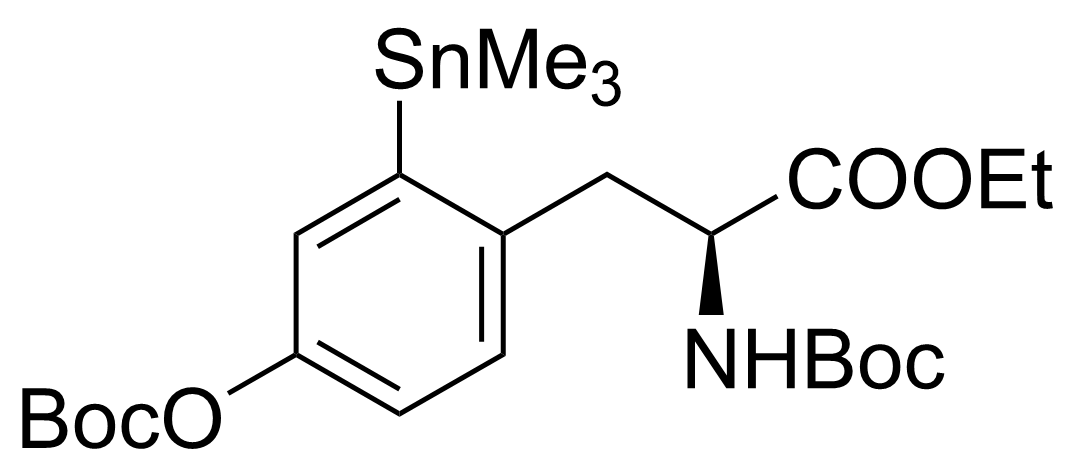 Characteristics
Molar mass 572.28
CAS RN [400885-40-7]
Purity ≥ 95 %
Yellowish, highly viscous oil
Certificates
CoA: appearance, ¹H and ¹¹⁹Sn NMR spectra, HPLC
Product sheets (PDF)
Literature
Hess E. et al. Synthesis of 2-[¹⁸F]fluoro-L-tyrosine via regiospecific fluoro-de-stannylation. Appl. Radiat. Isot. 2002, 57, 185–191.
Hess E. Production of [¹⁸F]fluorine via the ¹⁸O(p,n)¹⁸F nuclear reaction and application in the ¹⁸F-labelling of aromatic amino acids. Berichte des Forschungszentrums Jülich 2001, Juel-3873 i-ix, 1–144.
Nef W.W. et al. N-acetyl-2-(trimethyl-stannyl)-4-butoxycarbonyloxy-L-phenylalaninethylester (4) for the production of 2-fluorotyrosine. Eur. J. Nucl. Med. 1997, 24, 1056.
Add to inquiry
Product
Product No.
Filling amount
Quantity
/products/small-molecules-and-peptides/chemical/db11acd3-eb44-4d6f-ad19-248aa20a6c61
Precursor

Product No.:

3000

Filling amount:

60 mg

/products/small-molecules-and-peptides/chemical/db11acd3-eb44-4d6f-ad19-248aa20a6c61
Precursor

Product No.:

3000
Related products
Product was added