Small molecules & peptides
EKAP precursor
(S)-2-(3,4-Dichlorophenyl)-1-(2-((diethylamino)methyl)piperazin-1-yl)ethan-1-one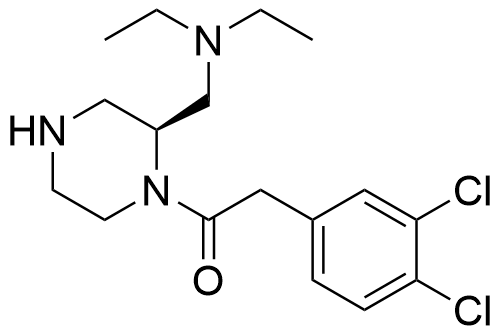 Characteristics
Molar mass 358.31
CAS RN [not yet assigned]
Purity ≥ 95 %
Colorless to yellow oil
soluble in dichloromethane, ethyl acetate, diethyl ether, dimethyl sulfoxide
Certificates
CoA: ¹H NMR spectrum (identity), HPLC (purity), chiral HPLC (chiral purity)
Product sheets (PDF)
Literature
Naganawa M. et al. Kinetic modeling and test-​retest reproducibility of ¹¹C-​EKAP and ¹¹C-​FEKAP, novel agonist radiotracers for PET imaging of the κ-​opioid receptor in humans. J. Nucl. Med. 2020, 61, 1636–1643.
Li S. et al. Development and In Vivo Evaluation of a κ-Opioid Receptor Agonist as a PET Radiotracer with Superior Imaging Characteristics. J. Nucl. Med. 2019, 60, 1023–1030.
Matuskey D. et al. Social status and demographic effects of the kappa opioid receptor: a PET imaging study with a novel agonist radiotracer in healthy volunteers. Neuropsychopharmacology 2019, 44, 1714–1719.
Add to inquiry
Product
Product No.
Filling amount
Quantity
/products/small-molecules-and-peptides/chemical/298bf1bf-191c-4208-881d-350c98974b28
Precursor

Product No.:

2073
Related products
Product was added