Small molecules & peptides
NITTP
Precursor for [¹⁸F]FMISO ([¹⁸F]fluoromisonidazole)
1-(2'-Nitro-1'-imidazolyl)-2-O-tetrahydropyranyl-3-O-toluenesulfonyl-propanediol; 3-(2-Nitroimidazol-1-yl)-2-O-tetrahydropyranyl-1-O-toluenesulfonylpropanediol
CA index name: 1H-imidazole-1-propanol, 2-nitro-β-[(tetrahydro-2H-pyran-2-yl)oxy]-, 4-methylbenzenesulfonate (ester)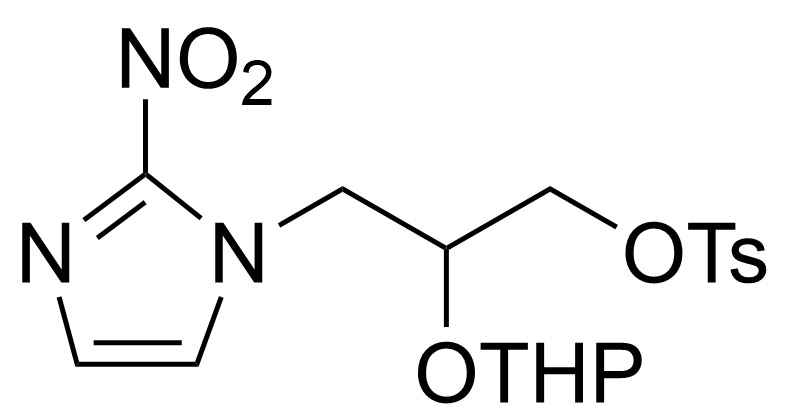 Characteristics
Molar mass 425.46
CAS RN [150196-34-2]
Purity ≥ 95 %
Certificates
CoA: appearance, ¹H and ¹³C NMR spectra
Product sheets (PDF)
Literature
Oh S.J. et al. Fully automated synthesis of [¹⁸F]fluoromisonidazole using a conventional [¹⁸F]FDG module. Nucl. Med. Biol. 2005, 32, 899–905.
Lim J.L. et al. An efficient radiosynthesis of [¹⁸F]Fluoromisonidazole. Appl. Radiat. Isot. 1993, 44, 1085–1091.
Martin G.V. et al. Noninvasive detection of hypoxic myocardium using [¹⁸F]Fluoromisonidazole and positron emission tomography. J. Nucl. Med. 1992, 33, 2202–2208.
Rasey J.S. et al. Radiolabeled fluoromisoindazole as an imaging agent for tumor hypoxia. Int. J. Radiat. Oncol. Biol. Phys. 1989, 17, 985–991.
Add to inquiry
Product
Product No.
Filling amount
Quantity
/products/small-molecules-and-peptides/chemical/4c7840d6-204c-405d-bc82-d49d85e830a4
Precursor

Product No.:

1400

Filling amount:

5 mg

/products/small-molecules-and-peptides/chemical/4c7840d6-204c-405d-bc82-d49d85e830a4
Precursor

Product No.:

1400

Filling amount:

10 mg

/products/small-molecules-and-peptides/chemical/4c7840d6-204c-405d-bc82-d49d85e830a4
Precursor

Product No.:

1400
Product was added