Small molecules & peptides
CPFPX
Reference standard for [¹⁸F]CPFPX (8-cyclopentyl-3-(3-[¹⁸F]fluoropropyl)-1-propylxanthine)
8-Cyclopentyl-3-(3-fluoro-propyl)-1-propyl-3,7-dihydro-purine-2,6-dione; 8-Cyclopentyl-3-(3-[¹⁸F]fluoropropyl)-1-propylxanthine
CA index name: 1H-Purine-2,6-dione, 8-cyclopentyl-3-(3-fluoropropyl)-3,9-dihydro-1-propyl-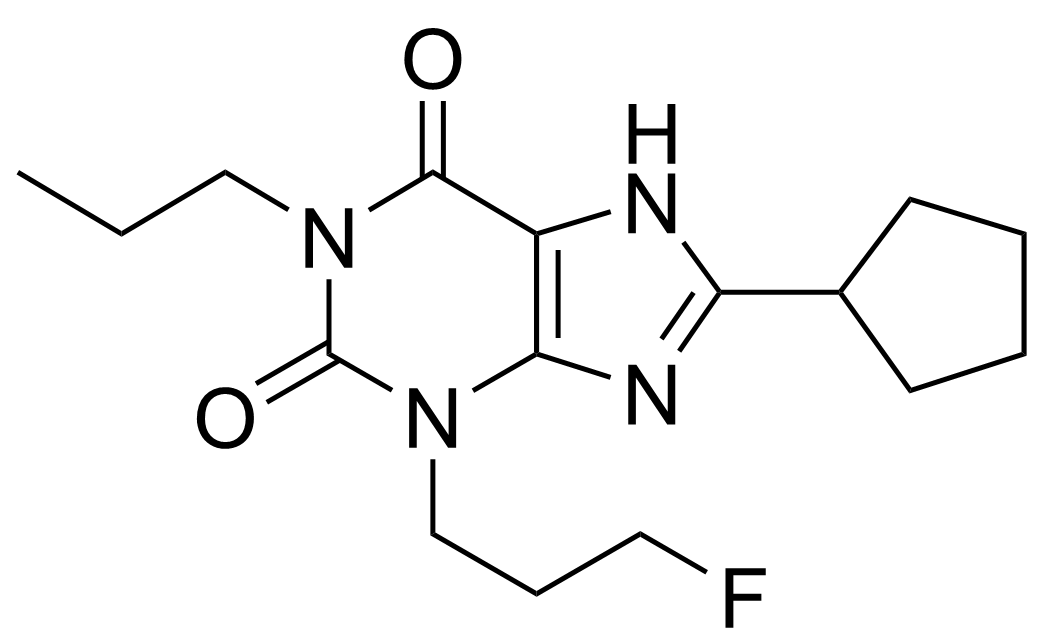 Characteristics
Molar mass 322.38
CAS RN [200557-18-2]
Purity ≥ 95 %
Colorless to off-white solid
Certificates
CoA: appearance, ¹H and ¹⁹F NMR spectra
Product sheets (PDF)
Literature
Holschbach M. H. et al. Synthesis and Evaluation of No-Carrier-Added 8-Cyclopentyl-3-(3-[¹⁸F]fluoropropyl)-1-propylxanthine ([¹⁸F]CPFPX): A Potent and Selective A1-Adenosine Receptor Antagonist for in Vivo Imaging. J. Med. Chem. 2002, 45, 5150–5156.
Bauer A. et al. Evaluation of ¹⁸F-CPFPX, a Novel Adenosine A1 Receptor Ligand: In Vitro Autoradiography and High-Resolution Small Animal PET. J. Nucl. Med. 2003, 44, 1682–1689.
Matusch A. et al. Metabolism of the A1 adenosine receptor PET ligand [¹⁸F]CPFPX by CYP1A2: implications for bolus/infusion PET studies. Nucl. Med. Biol. 2006, 33, 891–898.
Elmenhorst D. et al. Caffeine Occupancy of Human Cerebral A1 Adenosine Receptors: In Vivo Quantification with ¹⁸F-CPFPX and PET. J. Nucl. Med. 2012, 53, 1723–1729.
Add to inquiry
Product
Product No.
Filling amount
Quantity
/products/small-molecules-and-peptides/chemical/4d4ed35b-db3b-41ea-9870-8b450f3b9e2a
Reference Standard

Product No.:

3751

Filling amount:

10 mg

/products/small-molecules-and-peptides/chemical/4d4ed35b-db3b-41ea-9870-8b450f3b9e2a
Reference Standard

Product No.:

3751
Related products
Product was added