Small molecules & peptides
FSPG precursor
Precursor for [¹⁸F]FSPG (S)-4-(3-[¹⁸F]fluoropropyl)-L-glutamic acid
di-tert-butyl (4S)-4-{3-[(2-naphthylsulfonyl)oxy]propyl}-N-trityl-L-glutamate; PI-021, [¹⁸F]FSPG precursor
di-tert-butyl (2S,4S)-2-(3-((naphthalen-2-ylsulfonyl)oxy)propyl)-4-(tritylamino)pentanedioate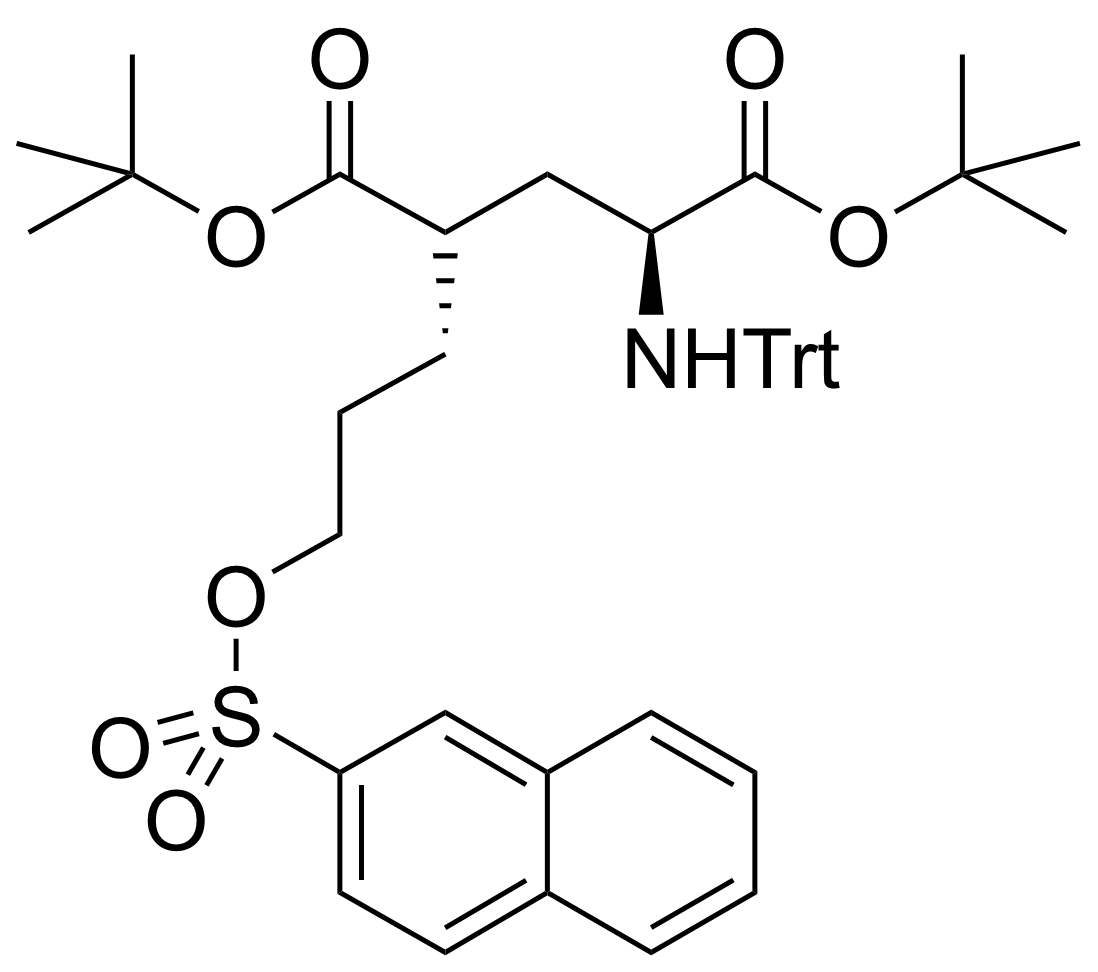 Characteristics
Molar mass 749.95
CAS RN [1407533-12-3]
Purity ≥ 95 %
White to yellowish solid
soluble in ethyl acetate, diethyl ether, dichloromethane, chloroform, dimethyl sulfoxide, propanol
Certificates
CoA: appearance, ¹H NMR spectrum (identity), HPLC (purity)
Product sheets (PDF)
Literature
Smolarz K. et al. (S)-4-(3-¹⁸F-Fluoropropyl)-L-glutamic acid: an ¹⁸F-labeled tumor-specific probe for PET/CT imaging - dosimetry. J. Nucl. Med. 2013, 54, 861–866.
Mittra E. S. et al. Pilot Preclinical and Clinical Evaluation of (4S)-4-(3-[¹⁸F]Fluoropropyl)-L-Glutamate (¹⁸F-FSPG) for PET/CT Imaging of Intracranial Malignancies. Plos One 2016, 11.
Domercq M. PET imaging with [¹⁸F]FSPG evidences the role of system xc- on brain inflammation following cerebral ischemia in rats. Theranostics 2016, 6, 1753–1767.
Add to inquiry
Product
Product No.
Filling amount
Quantity
/products/small-molecules-and-peptides/chemical/5d1881e4-ee47-40cd-9ba1-a27c6f466e02
Precursor

Product No.:

3193
Related products
Product was added