Small molecules & peptides
5-Methyl-2,4-bis[(trimethylsilyl)oxy]pyrimidine
Precursor 2 for [¹⁸F]FMAU (2'-deoxy-2'-[¹⁸F]fluoro-5-methyl-1-β-D-arabinofuranosyluracil)
2,4-Bis(trimethylsiloxy)-5-methylpyrimidine; 2,4-Bis(trimethylsilyl)-5-methyluracil; 2,4-Bis-O-(trimethylsilyl)thymine; O,O'-Bis(trimethylsilyl)thymine; Bis(O-trimethylsilyl)thymine
CA index name: Pyrimidine, 5-methyl-2,4-bis[(trimethylsilyl)oxy]-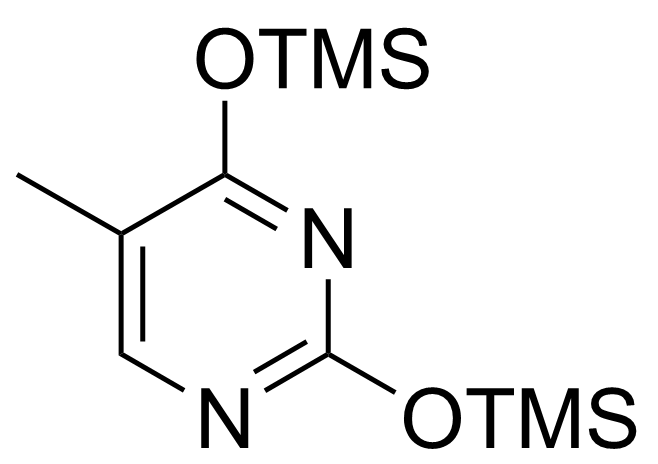 Characteristics
Molar mass 270.48
CAS RN [7288-28-0]
Purity ≥ 95 %
Colorless solid or liquid
Certificates
CoA: appearance, ¹H and ¹³C NMR spectra
Product sheets (PDF)
Literature
Mangner T.J. et al. Synthesis of 2'-deoxy-2'-[¹⁸F]fluoro-β-D-arabinofuranosyl nucleosides, [¹⁸F]FAU, [¹⁸F]FMAU, [¹⁸F]FBAU, [¹⁸F]FIAU, as potential PET agents for imaging cellular proliferation. Nucl. Med. Biol. 2003, 30, 215–224.
Buursma A.R. et al. ¹⁸F-FEAU as a radiotracer for herpes simplex virus thymidine kinase gene expression: in-vitro comparison with other PET tracers. Nucl. Med. Commun. 2006, 27, 25–30.
Alauddin M.M. et al. Direct comparison of radiolabeled probes FMAU, FHBG, and FHPG as PET imaging agents for HSV1-tk expression in a human breast cancer model. Mol. Imaging 2004, 3, 76–84.
Alauddin M.M. et al. Synthesis and evaluation of 2'-deoxy-2'-¹⁸F-fluoro-5-fluoro-1-β-D-arabinofuranosyluracil as a potential PET imaging agent for suicide gene expression. J. Nucl. Med. 2004, 45, 2063–2069
Add to inquiry
Product
Product No.
Filling amount
Quantity
/products/small-molecules-and-peptides/chemical/7bea4590-8267-449a-8b14-8e2934930971
Precursor

Product No.:

2872

Filling amount:

100 mg

/products/small-molecules-and-peptides/chemical/7bea4590-8267-449a-8b14-8e2934930971
Precursor

Product No.:

2872
Product was added