Small molecules & peptides
S-(–)-BZM
Precursor for S-(–)-[¹²³/¹²⁵I-Tracer]IBZM
BZM; S-(–)-2-Hydroxy-6-methoxy-N-[(1-ethyl-2-pyrrolidinyl)methyl]benzamide
CA index name: Benzamide, N-[[(2S)-1-ethyl-2-pyrrolidinyl]methyl]-2-hydroxy-6-methoxy-; Benzamide, N-[(1-ethyl-2-pyrrolidinyl)methyl]-2-hydroxy-6-methoxy-, (S)-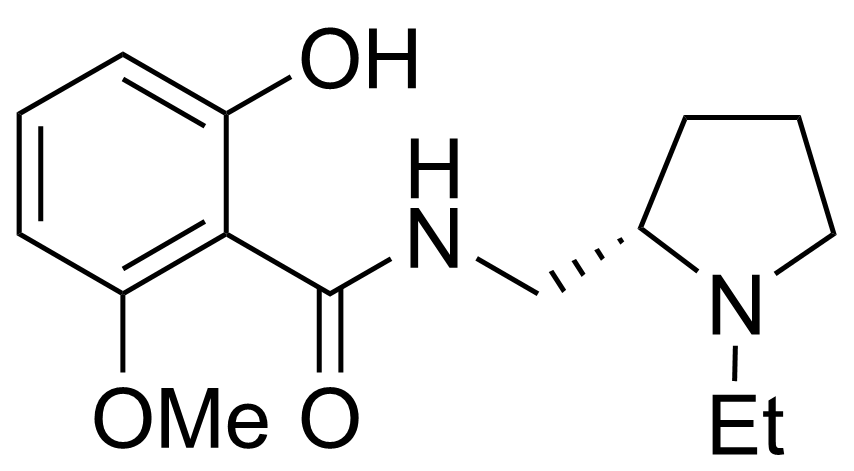 Characteristics
Molar mass 278.35
CAS RN [84226-04-0]
Purity ≥ 95 %
Pale yellow semisolid or solid.
Certificates
CoA: appearance, ¹H NMR spectrum
Product sheets (PDF)
Literature
Kung H.F. et al. Dopamine D-2 receptor Imaging Radiopharmaceuticals: Synthesis, Radiolabeling and in Vitro binding of R(+)- and S(–)-3-iodo-2-hydroxy-6-methoxy-N-[(1-ethyl-2-pyrrolidinyl)methyl]benzamide. J. Med. Chem. 1988, 31, 1039–1043.
Norinder U. et al. A quantitative structure-activity relationship for some dopamine D2 antagonists of benzamide type. Acta Pharm. Nord. 1992, 4, 73–78.
Add to inquiry
Product
Product No.
Filling amount
Quantity
/products/small-molecules-and-peptides/chemical/e3aef380-f510-4ef3-a295-c54c08cdb990
Precursor

Product No.:

7500

Filling amount:

1 mg

/products/small-molecules-and-peptides/chemical/e3aef380-f510-4ef3-a295-c54c08cdb990
Precursor

Product No.:

7500

Filling amount:

10 mg

/products/small-molecules-and-peptides/chemical/e3aef380-f510-4ef3-a295-c54c08cdb990
Precursor

Product No.:

7500
Related products
Product was added